President and COO Message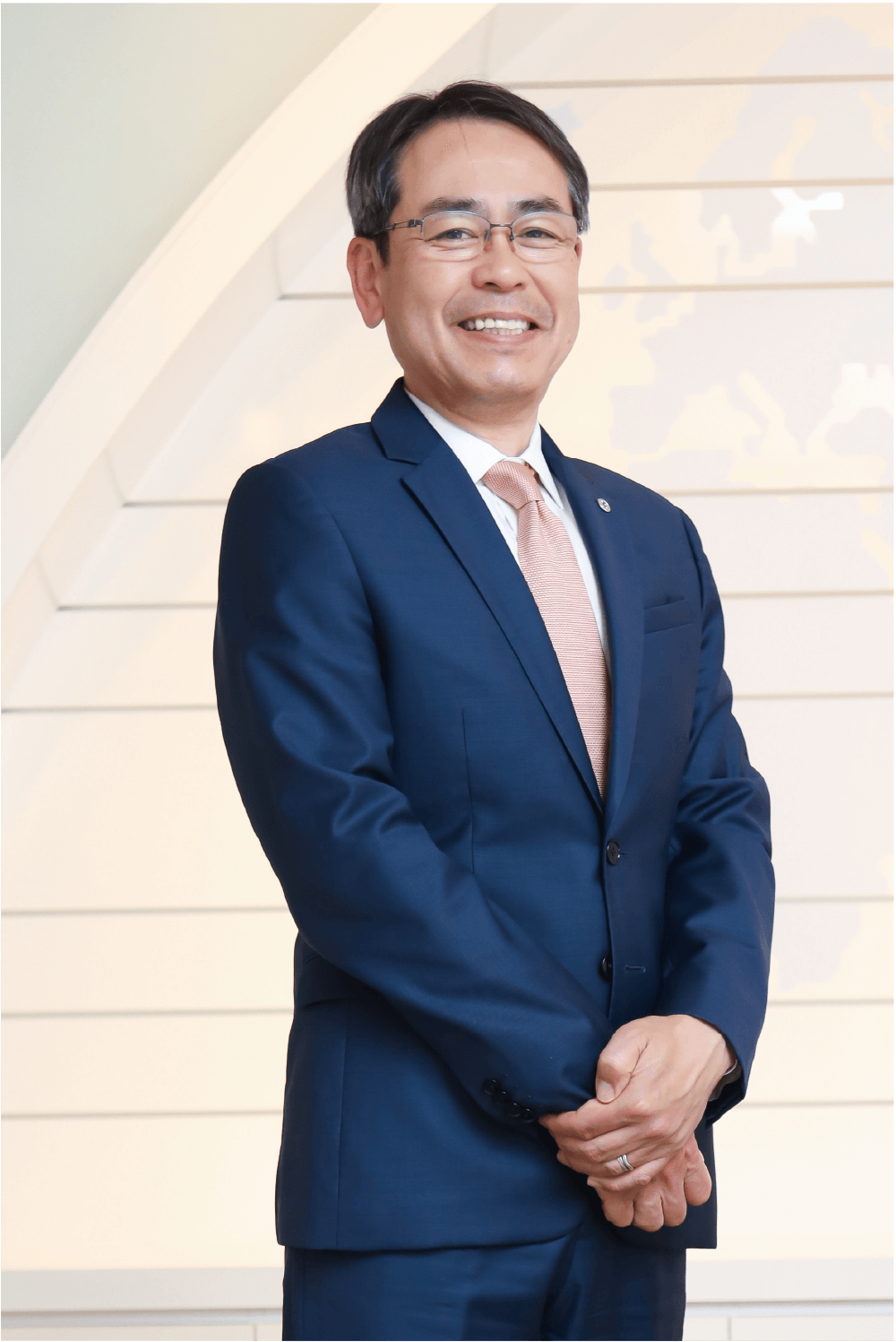 Promoting Fundamental
Reforms to Achieve
Medium- and
Long-Term Growth.

Masayuki Shirokawa
Director, Representative Executive Officer,
President and COO
Reviewing our performance for FY2021
The FY2021 (April 1, 2021, to March 31, 2022), the first year of our Medium-Term Management Plan (FY2021-FY2023), was a year full of unexpected incidents, including the sharp rise in raw material prices, the lingering impact of the COVID-19 pandemic, and the Russian invasion of Ukraine. Under these circumstances, in February 2022, we revised the financial forecast we announced in May 2021, mainly due to the anticipated difficulty in achieving our initial net sales targets set for Japan, Europe, and the ASEAN region, and the significant impacts of increased raw material prices and logistics expenses on production costs. Ultimately, compared to the previous year, consolidated net sales increased, and operating income and net income decreased. On the other hand, compared to the revised forecast announced in February 2022, net sales, operating income, and net income exceeded figures in the forecast, respectively. By region, net sales in the Americas increased significantly compared to those of the previous year,while net sales in Japan, Europe, and ASEAN region have declined.
Beginning with restructuring of our product development system, we have embarked on a series of bold initiatives
FY2022 has been difficult, but we recognize this chaotic period as an opportunity for fundamental reforms that would not be carried out in ordinary times. The year 2022 marks the 125th anniversary of the founding of FSG. In anticipation of the next 100 years, we have begun to take radical measures that were not included in our original Medium-Term Management Plan.
One of these initiatives is the restructuring of our product development system. Until now, product development was carried out by each business division, but now we have shifted to a cross-divisional system. This sets a big challenge, and we expect more new products that include original combinations that defy the conventional norm. Furthermore, we are introducing platforms to increase sales and profit per-capita efficiently and are promoting digital transformation DX to improve SGA (selling, general, and administrative expenses). A comparison of our various data reveals that each region has its own characteristics, such as the Americas' control of SGA and Japan's low rate of production defects. As a corporate group operating on a global level, we would like to create a better organization and achieve our goals by taking advantage of each business region's "good practice models."
In FY2022, we will continue to tackle our nine materiality issues.
While we have achieved the target set by the Group Sustainability Committee two years ahead of schedule careful consideration reminds us that it is a result of the initiatives we have implemented and of what was passed down to us by our predecessors, just like DNA. In this sense, our target declaration was a message articulating it into words, enabling us to receive high ratings from external evaluations.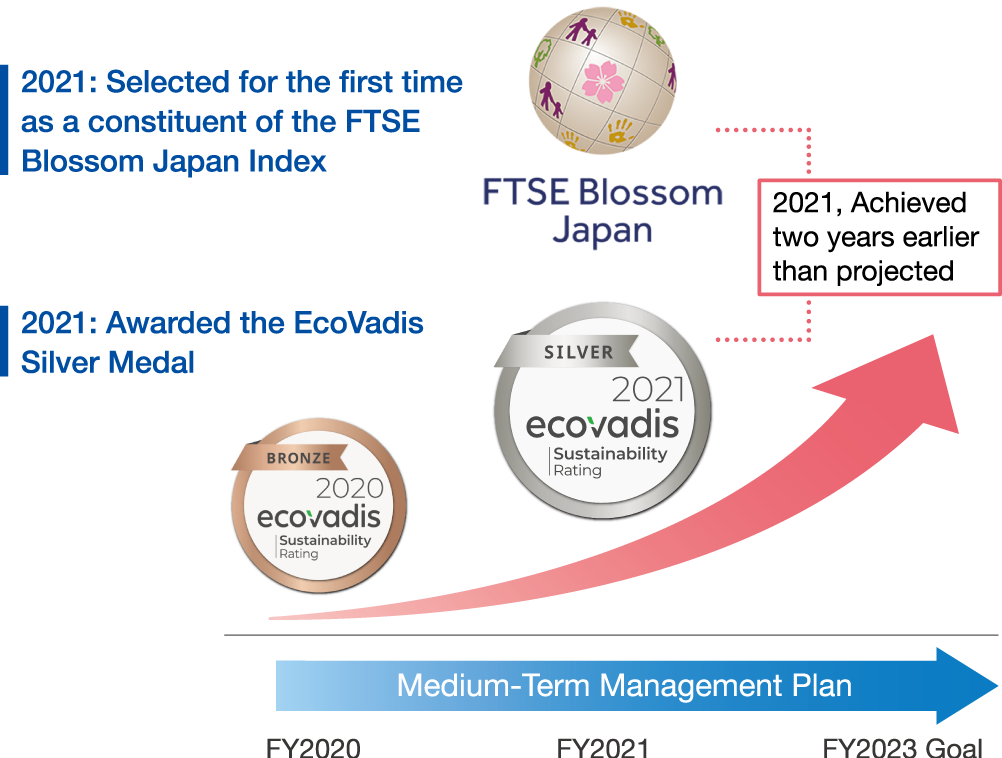 Building a new model for factories friendly to both people and the environment
both people and the environment For FY2022, our consolidated forecast projects a 5.1% increase in net sales and a 5.0% increase in operating income. In addition, we have adopted three business strategies: responsibility for supply as an essential business (construction of new model plants); introduction of differentiated products; rationalization of existing businesses.
The strategy we will mainly focus on is the building of a new model for factories. The new factory in North Carolina, which is scheduled to be completed in December 2022, is positioned with "a production system that supports sustainable growth in the Americas."It aims to be "factory friendly to both people and the environment" by using solvent-free printing and automation.
In Yamagata Prefecture, Japan, and Prakasa, Thailand, we are planning to run two new factories, completely different from existing, with the objective of "adding value by transforming our total packaging solutions with factories that are friendly to people and the environment" which is one of the strengths of FSG. Particularly at the new factory in Yamagata that will be a pioneer for the next-generation factories, young employees are exchanging their ideas enthusiastically with transcending the boundaries of business divisions for creating new concept, for example waste-free operation and the use of natural energy.
The construction of the new North Carolina factory has been partly financed by the Development Bank of Japan Inc.'s (DBJ) "Environmentally Rated Loan Program" as a result of the ESG evaluation of our initiatives and commitment to realizing a circular society through manufacturing. FSG was evaluated as a "company with excellent advanced environmental initiatives," as represented by the "label-to-label" and "label-to-bottle" projects. We will continue to actively engage in environmental conservation initiatives to make more strategic uses of our "Environmentally Rated Loan Program."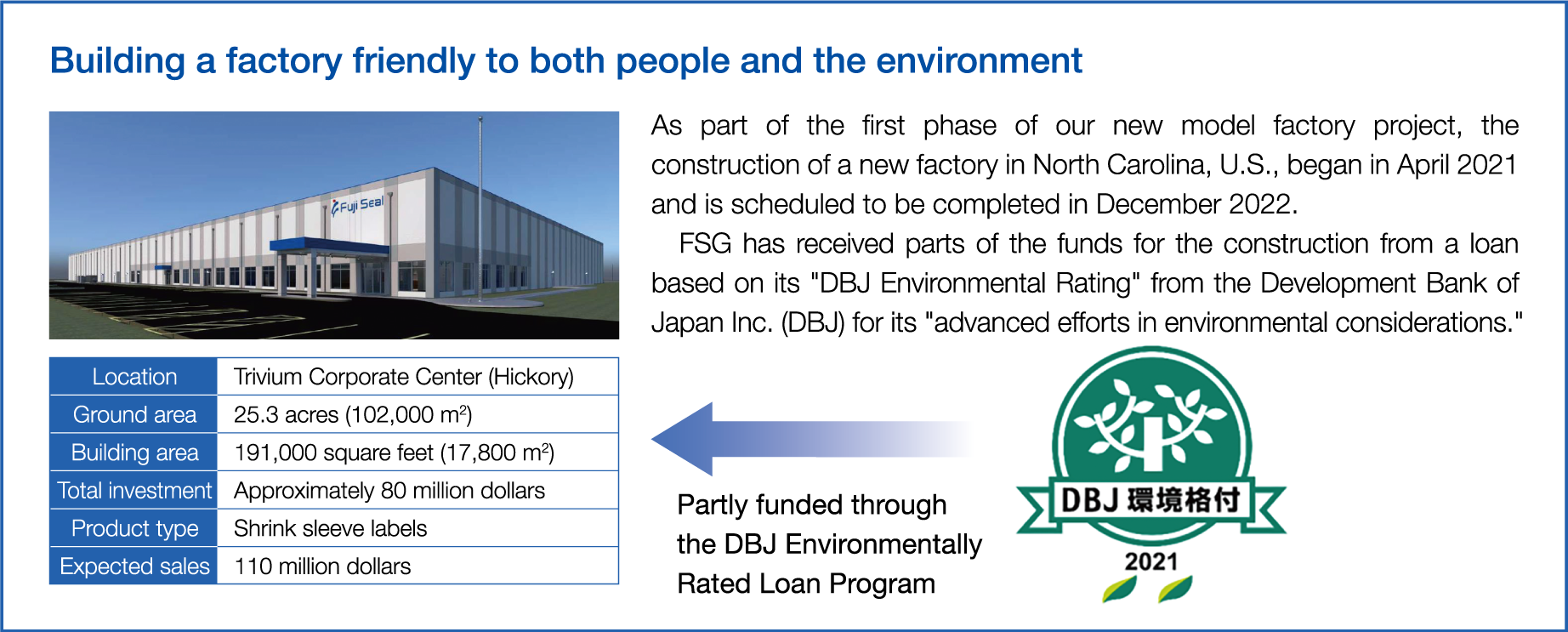 Aiming to rebuild and expand markets in cooperation with our business partners, customers and competitors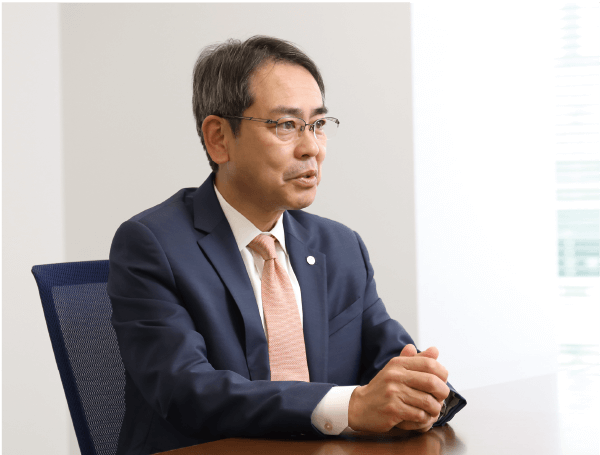 In March to April 2022, after Russia launched its military invasion of Ukraine, I made a business trip to Poland, where one of our business bases is located. I wanted to know first-hand what the current situation in Europe was and how it would affect us, but found that our business continued to be operated more stably than I imagined, and once again it reminded me of FSG's strengths.
The recent series of unprecedented events, including the COVID-19 pandemic, has caused serious disruption of supply chains, shortage of materials, and a rise in material prices. In such circumstances, FSG has been able to fulfill its responsibility for stable product supply as a corporate group engaged in essential business even amid this difficult situation thanks to our business partners, who place the highest priority on us, and we are proud of the trust-based relationships that our predecessors have built over the years. With the hope that we and our customers can also be equal business partners, we have successfully sought their consent to revise of our selling prices, ensuring our business continuity.
Currently, we are focusing on building good relationships not only with our partners and customers, but also with our competitors. For example, in the shrink sleeve label business, which is the core business of FSG, we would like to rebuild and expand the market by growing together with our competitors. For that purpose, we have kept information on RecShrinkTM labels, which we have introduced to the Americas' market, open to other companies, instead of treating it as confidential.
Nurturing the next generation of human resources while Maintaining objectivity and transparency
As one of the first in Japan to adopt a "Nominating Committee" we have built a reputation of being a progressive company in corporate governance. Many say that we are an example of a rare Japanese company with a Board of Directors where three out of five are outside directors while two are internal directors, but for us this is nothing special to ensure objectivity and transparency. Every time I attend the Board of Directors, I get really nervous. The outside directors express their honest opinions and perspectives on each item on the agenda, and we must respond properly. We often hear that at other companies Board meetings go smoothly because arrangements made ahead of time, but we, FSG, always have earnest discussions, for which I feel thankful, and I believe this is the way it should be.
In the near future, the Board of Directors may have discussions in English. Among the regions where we operate, ASEAN is expected to see the highest population growth from now, whereas Europe plays a central role in formulating various business regulations and guidelines. The "market that grows" and the "market that makes the rules" are critical factors. I believe that we need to actively listen to the opinions of those who will be at the center of these regions by appointing them to be part of our executive management teams. In particular, the key to winning or losing in business is how quickly we can obtain information from Europe and take necessary action, as well as in the strategic development of human resources.
I recognize that in terms of diversity, it is necessary to take further steps towards inclusion (i.e., to respect and acknowledge individual differences). Related to my statement, "As a corporate group operating on a global level, good practice models...," I believe that the diversity and inclusion of the FSG will be further enhanced if members of each region can learn from each other and proceed with various projects, with the Americas serving as a teacher at times and Japan serving as a teacher at other times, and now is the perfect time to take on such challenges.
Toward Growth that Meets Stakeholders' Expectations and the Implementation of Our Vision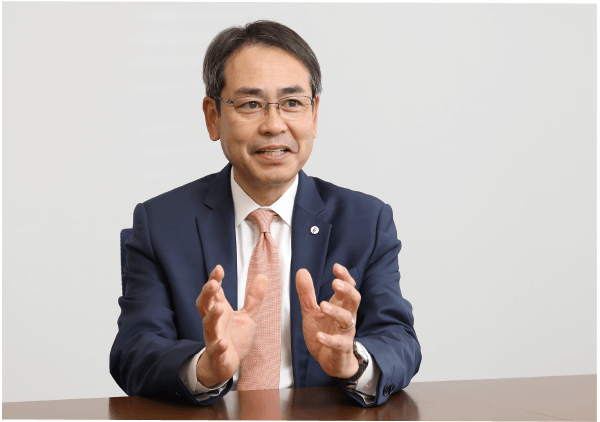 As we proceed to take bold reforms, there may be measures that will prevent remarkable short-term business results. However, reforms are a sort of surgical procedure to anticipate the next 10 to 100 years. To meet the expectations of our stakeholders who understand this, we would like to create an organization that can achieve growth over the medium to long term.
Last year, we renewed our vision for the first time in 10 years to "Our Value to People and the Planet." This year, the 125th anniversary of our founding, and as an example of putting this vision into practice, we launched the "Eco-Bag Project," which is one of our resource recycling initiatives, in which labels are discarded during the manufacturing process or in the marketplace are recycled to make eco-friendly shopping bags. As a leading company in the packaging industry, we will continue to contribute to the realization of a sustainable society and hope this will be recognized as a sign of our commitment.