Purposes of identifying materiality
As a leading company in the packaging industry, FSG has identified nine priority issues (materiality) that should be addressed with the aim of contributing to the realization of a sustainable society, to which SDGs* have also corresponded. Furthermore, the materiality decided in 2020 was broken down at the Board of Directors' meeting together with executive officers to set qualitative targets of materiality and KPIs. As a leading company of the packaging industry, we reaffirmed that the selected materiality has a great influence on society, and that each one is directly linked to our vision.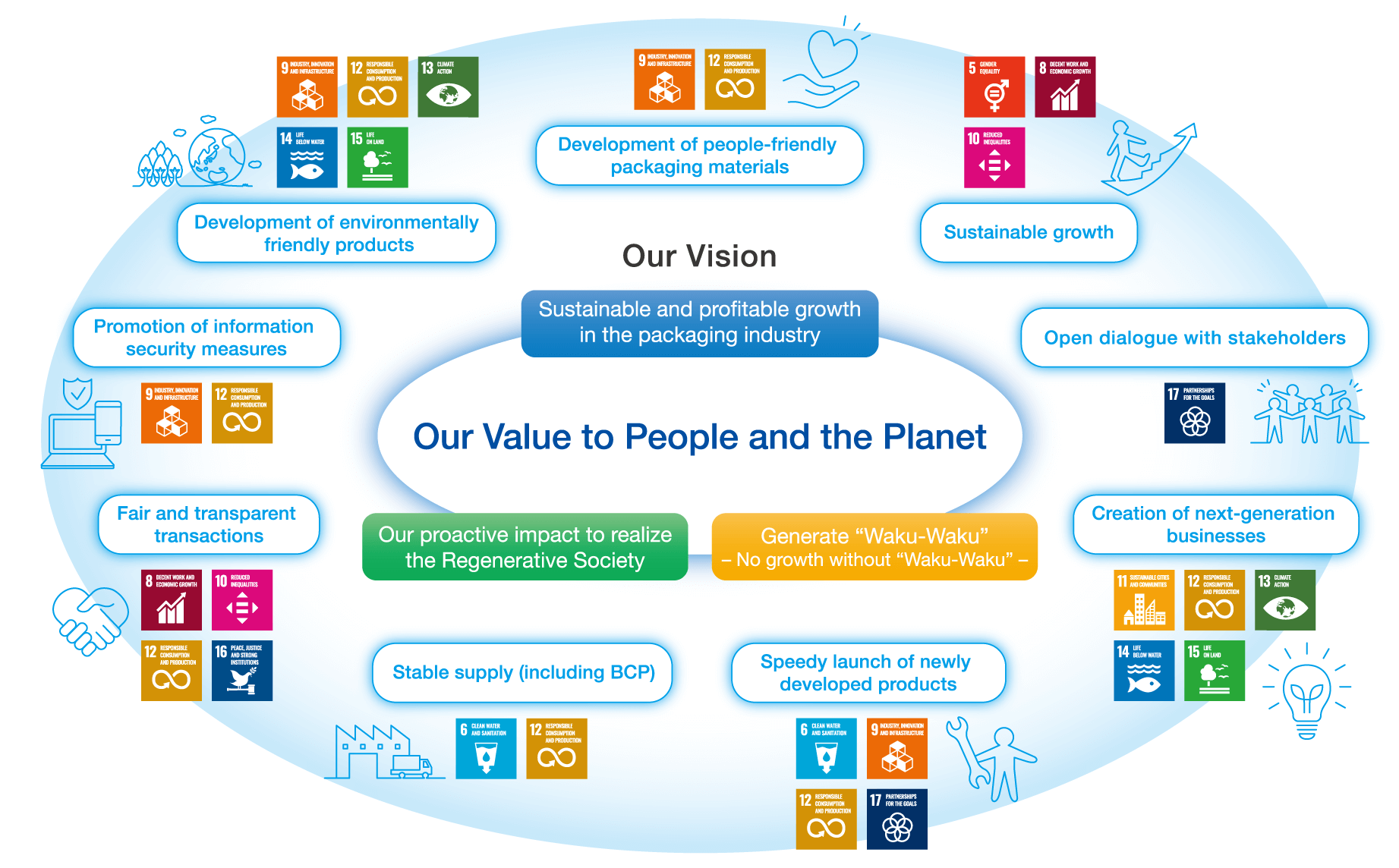 Materiality identification process
To identify materiality, we listed a broad range of issues, referring to well-known international guidelines for materiality. These issues were considered by staff members from business divisions deeply involved with each stakeholder and from corporate divisions that see the whole Group from a wider perspective. The results of consideration of these issues were placed on a matrix that presents their importance levels for stakeholders and for the Fuji Seal Group to set their respective priorities.
To determine their priority levels from an objective perspective, we absorbed the views of four outside directors and finally selected nine materiality issues, which were approved by the Board of Directors. We will incorporate these materiality issues into the next Mid-term Management Plan and set specific numerical targets to address them on a Group-wide basis.
Step1

Listing of priority items

Priority items were added and listed based on GRI Standards. The listed items were considered by the Secretariat. After close examination and further additions, 28 items were finally listed as candidates.
Step2

Narrowing down priority items

Out of the 28 candidates, nine items were selected as priority items through discussion with executive officers and reference to the importance given by external evaluation organizations.
Step3

Validity evaluation

The validity of the nine items was evaluated from an outside perspective by outside officers.
Step4

Setting targets and KPIs

The qualitative targets and KPIs were set at the Board of Directors' meeting and promoted by FSG.
Step5

Review

Materiality is reviewed in a timely manner, taking into consideration the social conditions and other factors.
Nine materiality issues determined
Development of people-friendly packaging materials
Target stakeholders : Employees / Suppliers / Shareholders / Society / Customers
FSG aims to be a company that provides value to society through packaging and continues to be needed by society.
We believe that it is important that individual employees are able to realize their contribution to society by developing and providing people-friendly packaging materials for customers and carry out product development and production with sense of pride.
Development of environmentally friendly products
Target stakeholders : Employees / Suppliers / Shareholders / Society / Customers
FSG acknowledges that it is an important issue common to all humankind to manufacture environmentally friendly products in an environmentally friendly manner.
We will therefore develop environmentally friendly products and achieve the environment-related goals of FSG as well as of our customers through our business activities.
Target stakeholders : Employees / Suppliers / Shareholders / Society / Customers
FSG believes that the growth of employees who share its values is fundamental to the sustainable growth of the company. To promote their growth, we will establish and improve a business system and related environment that ensure a safe and healthy life for employees by actively introducing advanced technology. We also provide opportunities for employees to develop themselves under a fair and equitable evaluation system so that they can continue to make use of their abilities. It is our desire to continue to be a business partner that keeps growing together with our suppliers and customers.
Speedy launch of newly developed products
Target stakeholders : Employees / Suppliers / Shareholders / Society / Customers
The strength of FSG is to be able to develop packaging materials and equipment for them together.
The source of skills that support our strength is the ability to satisfy customer demands by combining various technologies and to evaluate and verify what we have done. This ability enables us to realize the short-term launch of newly developed products.
Creation of next-generation businesses
Target stakeholders : Employees / Suppliers / Shareholders / Society / Customers
FSG is involved every day in creating new packaging materials according to changes in containers and logistics modes, and we endeavor to keep up with evolutions in the packaging market. As an example, we put to practical use 20 µm-thick packaging materials and biomass-based film before the rest of the world. It is essential for us to create new-generation businesses, taking advantage of our strengths, along with technological evolution.
Fair and transparent transactions
Target stakeholders : Suppliers / Customers
FSG places emphasis on conducting reliable transactions with suppliers and customers. We believe that it is important to engage in fair and transparent transactions by comprehensively selecting business partners in consideration of their product prices as well as their quality control system, quality assurance system, experience, abilities, achievements, and social aspects.
Promotion of information security measures
Target stakeholders : Employees / Suppliers / Customers
FSG protects and properly manages information provided by customers and suppliers and employees' personal information. We also believe that it is important to eliminate the risk of cyberattacks for business continuity.
Open dialogue with stakeholders
Target stakeholders : Employees / Suppliers / Shareholders / Society / Customers
FSG promotes increasing engagement with stakeholders through disclosing non-financial information in addition to financial information. We believe that it is particularly important and useful to clarify mutual expectations, boost mutual trust through dialogue, and respond to their expectations.
Stable supply (including BCP)
Target stakeholders : Suppliers / Customers / Society
FSG is engaged in businesses positioned as essential businesses, such as beverages, HPC (home personal care), and medical care. Since products in these businesses are essential to social life, we believe that it is our social responsibility to ensure a stable supply of these products both at ordinary times and during emergencies.