Respect for Group Human Rights
The Fuji Seal Group has established the Our Credo - "Each day with renewed commitment we create new value." Stating in Code of Ethics, we comply with laws and regulations and the spirit of each country and region in which our business activities are conducted and understand that all business activities are based on the premise of respecting Group Human rights.
FSG respects the human rights laid down in the International Bill of Human Rights (Universal Declaration of Human Rights and International Covenant on Human Rights) and the International Labour Organization (ILO) Declaration on Fundamental Principles and Rights at Work. We will also support the United Nations Guiding Principles on Business and Human Rights: Implementing the United Nations "Protect, Respect and Remedy" Framework and conduct our business activities accordingly.
Human Resource Development
Since its establishment, the Fuji Seal Group has focused on the belief that the growth of employees leads to the development of its business and industry, recognizing employees as one of its most important assets. Under its slogan, it helps to foster the creativity of employees.

Holding of the FSG Value Seminars:Sharing Values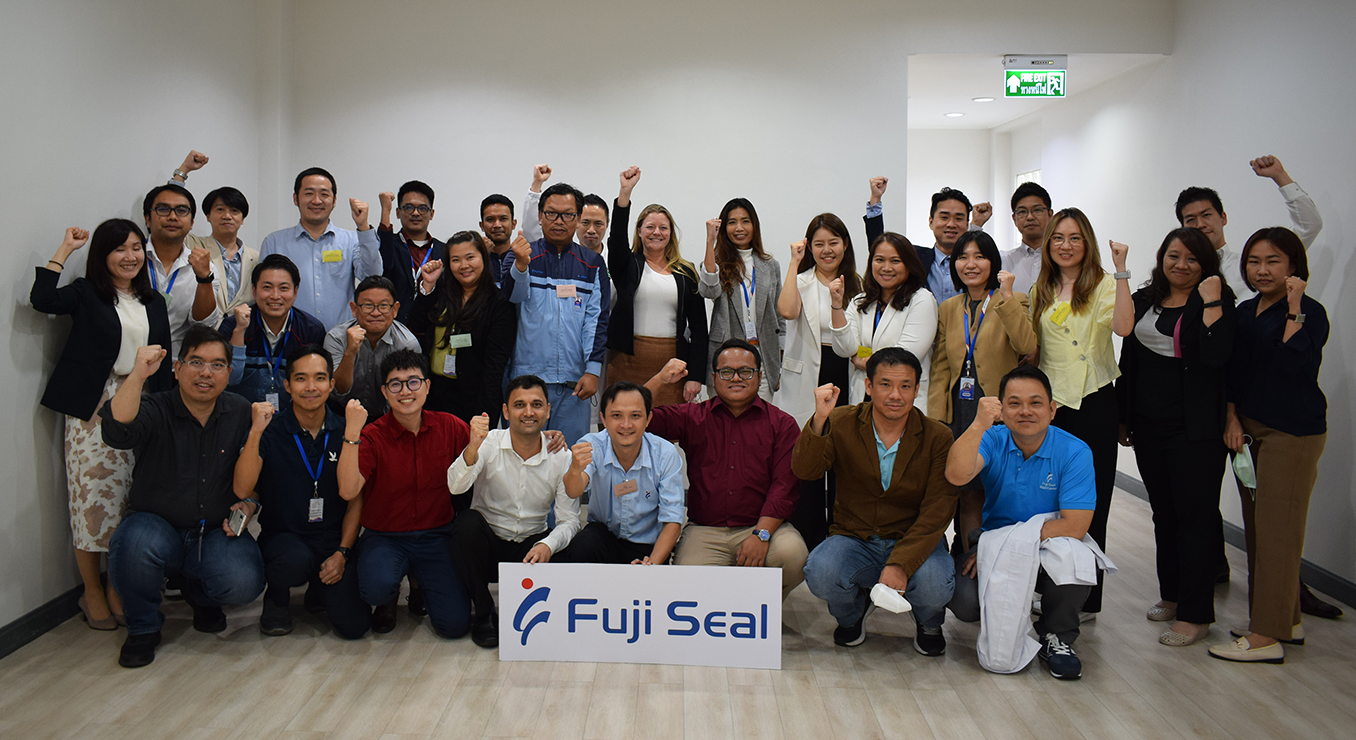 Since 2009, the Fuji Seal Group has organized and held the "FSG Value Seminar" aimed to promote awareness and understanding of our credo and values.
Our credo and values are shared throughout our group's and serve as a guideline for employees when making decisions and reflecting on their actions. In the Value Seminar, senior managers serve as lecturers, sharing their experiences and insights on our credo and values, while participants take part in group discussions on how to carry out actions based on their understanding of them. To ensure that each and every one of our global employees act in accordance with the Fuji Seal Group's credo and values to achieve our mission /vision, we will continue to hold Value Seminars in all regions.
In 2018, the seminars for Europe and the Americas were held in conjunction with the respective region directors. In 2022, Fuji Seal celebrated the 125th anniversary of its founding, and through video sessions on the Fuji Seal Way and discussions with employees, we will continue to promote the Fuji Seal Group's shared values and culture.
Group Human Resources Project for the Development of Next-generation Management
We started the "Next-generation Management Development Program" in 2018 to identify personnel who can be management members and continue to develop to foster them.
In this program, the management team is involved and takes the initiative. Those registered in the program have to accept job assignments to expand their job categories and enhance their expertise, actively work on developing the competence required by the Company, and make independent efforts toward the improvement of their English skills, accounting skills and logical thinking skills.
In one of the "Group Human Resources Project" development programs in 2020, a management assignment common to the group companies entitled "Revision to the Group Human Resources Project" was given to the 15 selected members, who proposed solutions to the management team for discussion. Despite of the COVID-19 pandemic, all the processes were conducted online for the first time, from the kick-off meeting, discussions among the members to the closing presentations.
Duties of personnel selected for the Next-generation Management Development Program

To actively work on developing the competence required by the company
To make self-help efforts toward the improvement of their English skills, accounting skills, and logical thinking skills (Learning and growing independently)
To accept job assignments aimed at expanding their job categories and enhancing their expertise

Purpose of introducing restricted stock

We provide key employees in our company and our subsidiaries with an incentive to contribute to the sustainable improvement of the medium- to long-term corporate value of the Group and have them hold stock in the company. By doing so, we raise their awareness of participation in management to further promote value sharing with our shareholders.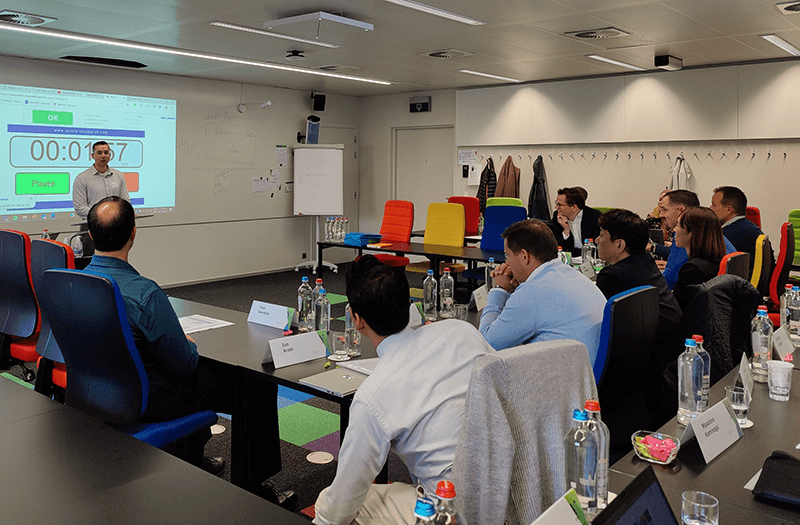 For the creation of an employee friendly working environment
The Fuji Seal Group will not discriminate against any employee for promotion and training or applicant for employment because of their race, religion, ethnicity, nationality, age, gender, sexual orientation/gender identity, disability, or other factors that are unrelated to the legitimate business interests of FSG.
FSG will aim to be a "diversity management" that utilizes diverse human resources and provides opportunities for employees to maximize their abilities. FSG will maintain and improve the personnel system and work conditions which fully realized employees' originality and diversity. FSG will conduct objective and fair evaluations based on results and performance and cultivate human resources with high expertise and creativity.
Idea Bank

Award ceremony of the Suggestion System

Fuji Seal implements the Suggestion System (KAIZEN TEIAN), through which a wide range of ideas are collected from employees to commend excellent ideas. These ideas include improvements to daily operations, measures to improve the work environment, and inspirations for new products. This system was established to reflect our expecta-tion that more employees will continue to strive to achieve greater creativity in their work, while always trying to identify problems without being satisfied with the present situation, and taking action independently to resolve them as well as committing themselves to daily operations.

Although the year 2020 marks the 35th anniversary of the system, the number of suggestions from employees has been increasing yearly. In FY2019, approximately 6,000 sugges-tions were submitted by employees, the number of which exceeded the total number of employees.

Since 2018, the intellectual property division has joined in the operation of the system, with the aim of reforming the system so that excellent ideas will lead directly to the develop-ment of Fuji Seal's business. In the newly reformed system, ideas suggested by employees are rolled out to various other divisions, and ideas related to patent applications and know-how management are examined, protected, and used on a company-wide basis as intellectual property that contrib-utes to the company's business.

The Suggestion System will continue to evolve as a system that encourages employees to make courageous and creative suggestions, a system through which individual employees can change the company with their ideas and develop the company with their action.
Length-of-service awards

We annually hold an award ceremony for long-serving employees, targeting employees who have been working for the company for 10, 15, and 20 consecutive years, on May 12, the company's anniversary.
The award ceremony is held during the company's founding anniversary event (Family Festival) held in May. In the ceremo-ny, the relevant employees are recognized for their long-stand-ing contributions to the growth of the Fuji Seal Group in front of their family members and colleagues. The length-of-service award ceremony, which is one of the events with a long history, provides an important opportunity for us to appreciate their contribution to the company and convey our expecta-tions for their future performance.
Since the time of our founding, when we had only a few employees, we have recognized the contributions of employ-ees and the family members who support them by giving a signed birthday cards as well as other gifts such as birthday cakes. In FY2019, we gave employees and their family members in Japan and overseas a birthday card with a message written by the President herself to deliver her dream and what the company aims to be. A book card was also enclosed with the birthday card to reinforce our belief in the importance of self-education.
Safety, Health, and Accident Prevention
The Fuji Seal Group places top priority on the safety and health of employees. We plan and take safety, health and accident prevention measures in a responsible manner to continue to ensure the safety and health of employees at each company and work site.
Safety, health and accident prevention management system
In each business region, an executive officer is responsible for safety, health, and accident prevention, and, at each company and factory, a Safety, Health and Accident Prevention Committee is established. In addition, information on minor incidents on-site is shared among the Group in order to take preventive measures.
We have also built a system in which, in the case of a labor accident and a fire, similar potential sites are promptly checked in all business regions and preventive measures are rolled out. We enhance our efforts to learn from past failures and to accumulate and standardize know-how about preventing accidents. We also take thorough measures to share information between the COO (Chief Operating Officer), who is responsible for overseeing safety, health, and accident prevention within the Fuji Seal Group, and the staff in each business region and each business segment and, in particular, to comply with laws, regulations, and internal rules, including auditing BCP.
Installation of imitative risk experience facilities
Imitative risk experience facilities are installed at factories in Japan, where subjects can actually experience the risk of being involved in a labor accident. These facilities are set up so that employees can experience potential risks in the workplace to learn the importance of safety physically and mentally, thereby improving their ability to prevent labor accidents from occurring and foresee potential risks.
Employees experience these imitative risks when joining the company as well as on a regular basis to raise their safety awareness.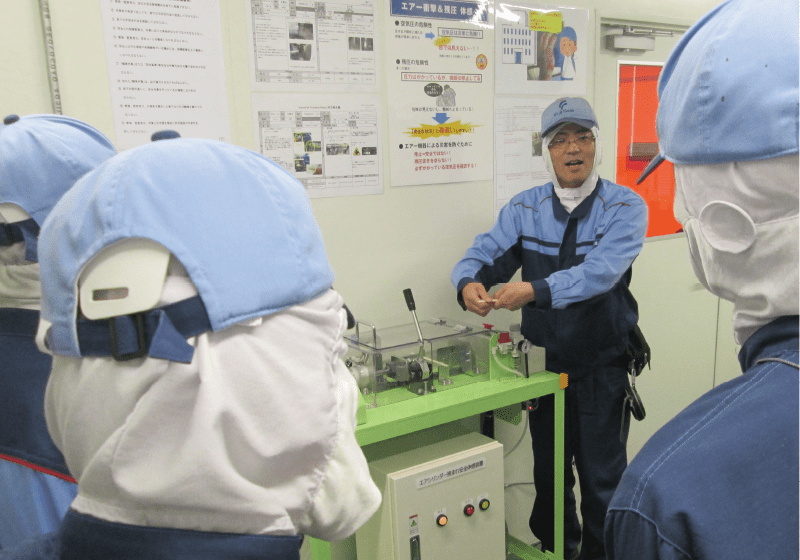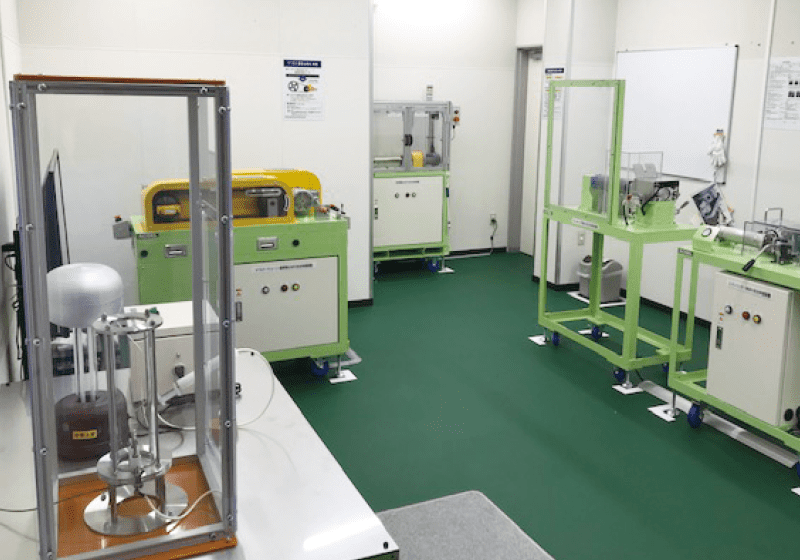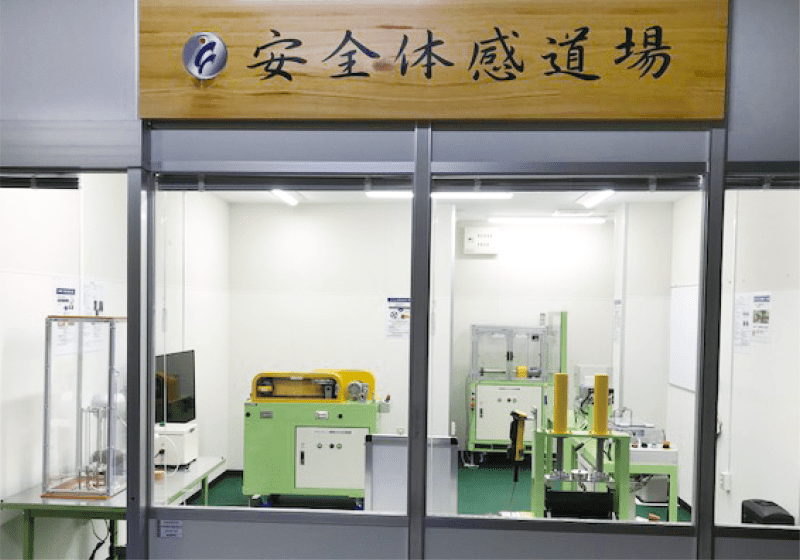 Social Contribution Activities
Social Contribution Vision
The FSG vision is that "Our Value to People and the Planet".
We aim to be a company that is resonsible for the realization of a sustainable society. We will continue to be a company that delivers affluence, happiness, pleasure and peace of mind to society and consumers through the development of people-friendly packages that are "easy to hold", "easy to open", "easy to read" and "easy to dispose".
FSG will fulfill our responsibilities as a member of the local community by maintaining good relationship, solidarity and cooperation with the local community.In addition to conducting business activities with respect for the customs and culture of the local community, we will participate in and cooperate with the activities of local communities and actively support voluantary social contribution activities of our employees.
Communication with the local community
Activity report for FY2022
In 2022, the Group allocated approximately 35K USD to the cost of activities, focusing on regional contributions.
Japan

Yamagata Factory

Participated in volunteer planting activities organized by the Sagae Central Industrial Park Promotion Association (June 2022)
Conducted a Sustainability workshop for 5th and 6th graders at Yamaguchi Elementary School in Tendo City (October 2022)

Cleanup activities around the plant (October 2022)

Yuki Factory

Blood donation at the plant (September 2022)

Nabari Factory

Cleanup activities around the plant (October 2022)
Cleanup activities of commuter bus routes in Yawata Industrial Park (November 2022)

Tokyo Head Office

Participation in Chiyoda Ward Cleanup Day
The residents, other businesses and organizations joined together in cleanup activities related to environmental beautification (November 2022)
Europe

Participation in HolyGrail 2.0 (Since October 2020)

Germany

The donation to Anna e.V. - a charity organisation that supports children fallen sick with cancer (February,2022)

Italy

The donation to the local idea bank program
As part of the idea bank Italy, which our employees can use as a platform to contribute ideas that bring a cost saving or contribute to realizing our core values, Italy is planning on donating to non-profit organizations. (By December, 2022)

Poland

The donation and funds from employees to the local shelter for animals. (October - December 2022)
Supported non-profit organizations by "Sweet baskets" for local senior care centers. (December 2022)

The Netherlands

Welcomed 50 children from an elementary school and had a Sustainability workshop in the neighborhood of our Fuji Seal plant in Deurne. (November, 2022)

United Kingdom

Crisp Packet to Blankets
Crisp packets, which are believed to take 80 years to decompose, provide a sustainable alternative to throwing them away and can provide a lifeline for people on the streets.
We are using rubbish to make something that somebody can use, and the packets would be waste if not recycled this way.
Americas

125th good deeds challenge
Supported non-profit organizations, groups, schools, and more

Donations directly to local charities
"Marion County Chamber" , "I am Her" and others (January, March, July, September, October, 2022)
Sustainability workshop
for community Kiwanis Club (October, 2022)
for local high school in Bardstown (November, 2022)
The "Giving back Committee" has been established, and employees voluntarily carry out activities (every December)
Donations and recovery
for Western KY Tornado (January, 2022)
for Eastern KY floods (July, 2022)
ASEAN

Vietnam

The donation to the disaster prevention fund (September, 2022)

Thailand

The donation to the Drug Prevention Youth Football Tournament organized by the local police station near the plant. (August, 2022)
The donation of goods about food, necessities, clothes, fund, bedding stuff to Prabathnapu Temple Foundation organization which help HIV/AIDS infected people.
All fund, food, necessities are from employee's donation.
(Every year on March 6, the anniversary of the founding of the company)
Welcomed 80children from an elementary school and had a Sustainability workshop in Sumutprakan City the neighborhood of our Bangpoo plant.
Click here for the social contribution activities in the past >
Development of people-friendly packaging materials
Fuji Seal develops and provides people-friendly packaging materials, such as easy-to-hold products, light-weight products, and easy-to-read products.
We have so far strived through trial and error to resolve various customer issues. Although we have suffered numer-ous failures during this process, we have worked with determi-nation to resolve the issues and overcome these failures. We believe that this has enabled our products to be widely adopt-ed in various industries.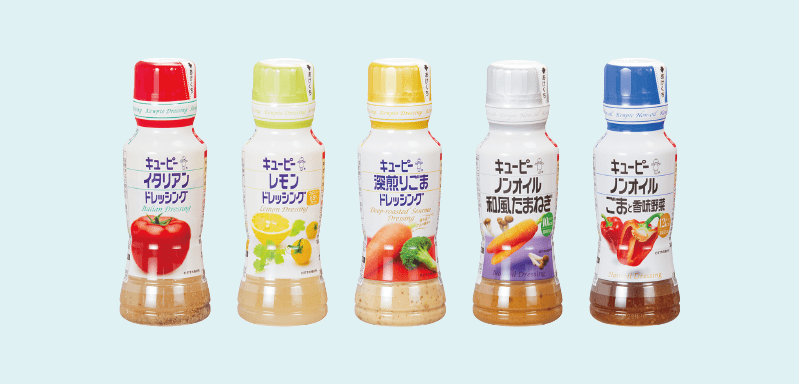 Wider space for display and sealing function
Tamper-proof shrink sleeve labels were adopted for a new type of light-weight and shatter-proof bottles.
These light-weight and shatter-proof containers are not only easy for the user to hold and pour, but also contribute to the reduction of greenhouse gas emissions. The wider space for display makes it easier to read a display on a label. Moreover, perforat-ed labels are easy to peel off, enabling the easy separation of labels.
Pressure Sensitive Labels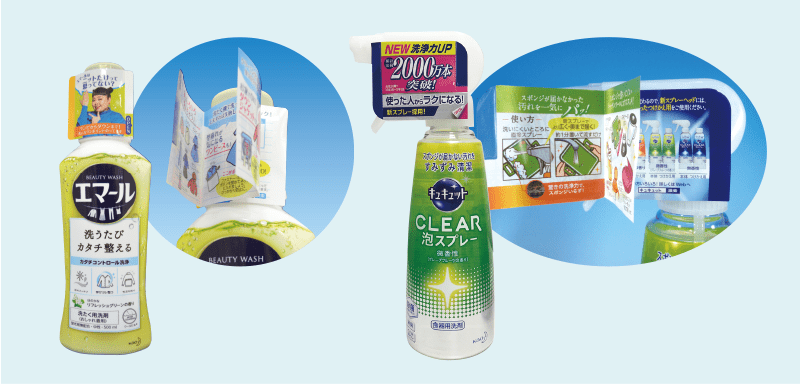 Easy-to-read display
Booklet-type labels with a wider space for display can provide a great deal of informa-tion. They serve not only as descriptions of new products but also as package leaflets which are hard to lose.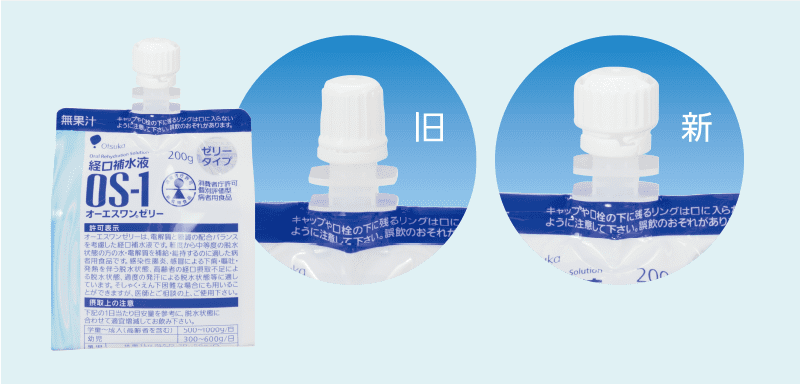 Easier to open
Spouted pouches with easier-to-open caps were developed, so that they can be easily opened even by those who are weak-handed or do not have enough finger strength. These pouches are well received by our customers (consumers).
Display of necessary information
Safety and security
Easy to read
Easy to open
Light-weight /Easy to hold
Easy to dispose of
We started the scholarship program in FY2006 to provide scholarships to university and graduate students in Japan and international students. Since then, we have supported more than 400 students. We also began providing scholarships to local students overseas and supporting the Asia Student Package Design Competition (ASPaC) in FY2017 and FY2018, respectively.
Fuji Seal Foundation