Pouches are primary packaging materials that can provide new value in various markets as a replacement for conventional plastic containers. We have created easy-to-use, easy-to-store, and easy-to-dispose pouches with a spout to deliver new value to consumers while considering the environment. We will continue to create innovation in the primary packaging market by taking advantage of creativity, which is our strength, and by integrating our technology with that of our business partners where we can make best use of the verification process with machines. We will resolve primary packaging issues caused by the diversification of lifestyles around the world based on relationships of trust with global leading companies so that our business will continue to grow into a business needed by society.
One year when a new market opened One year when changes occurred against the background of environmental issues
In FY2020, the spouted pouch business was affected by the COVID-19 pandemic in various aspects, like other businesses. In Japan, in particular, the sales of products for jelly beverages with a high sales ratio decreased amid the situation where schools were closed and events were cancelled. Meanwhile, rising demand for hand soap and other hygiene-related products as infection prevention measures led to an increase in our sales in this field. From around the middle of 2020, demand for alcohol for sterilization increased, and we were able to quickly respond to the demand. Alcohol with a very high concentration for sterilization had been unable to be packaged with a pouch with a conventional film composition. However, since we had worked to develop a new type of pouch over several years in cooperation with a material manufacturer, we were able to commercialize it ahead of other companies.
In this regard, it can be said that FY2020 was a year when our conventional market shrank, and at the same time, a new market opened. In addition, it was a year of change when we started various initiatives in earnest to address environmental issues, as highlighted in the previous year. Typical examples included Fuji Pouches, which were developed together with a home and personal care manufacturer. They can contribute to a significant reduction in the use of plastic compared to our conventional pouches with a spout and product body containers. Moreover, pouches grew in size against the background of environmental issues. Although pouches for one-time refilling have been the mainstream until now, large pouches that enable multiple refilling are currently increasing in number.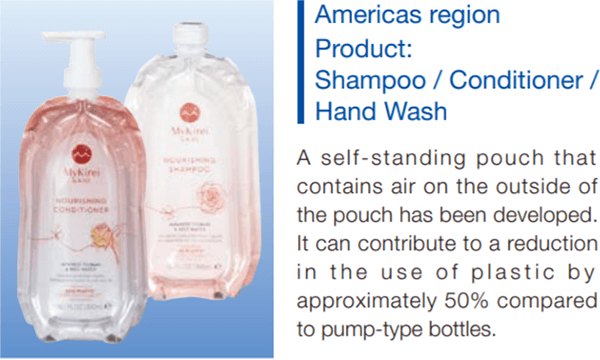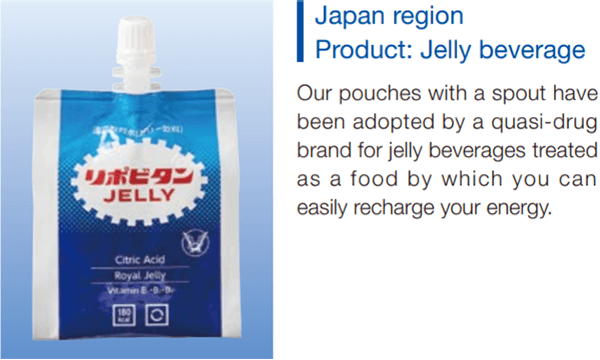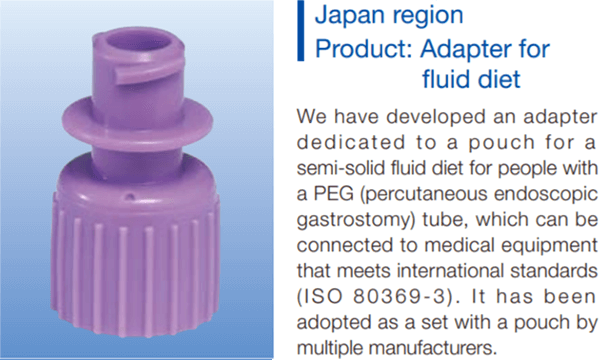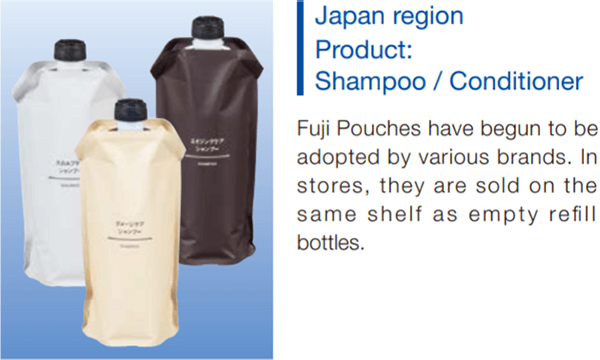 Flexibly responding to replacement of containers with pouches according to the culture of each country
When developing the spouted pouch business, we have been required to take further action to promote the 3Rs (Reduce, Reuse, Recycle) partly because the SDGs are now widely recognized. Actually, demand for environmentally friendly products related to the 3Rs is increasing year by year. Since pouches can contribute to a reduction in the use of plastic compared to conventional containers and have the advantage of being lightweight, I predict that the need to replace containers with pouches will increase even further.
However, the actual situation is that the market size of the spouted pouch business in Western countries is still small compared to that in Japan. For pouches with a spout, in particular, although they are used a lot for products for children, such as baby food, they are rarely used for home and personal care products. One of the biggest reasons is that there is no refilling culture in the West. Although the practice of refilling is spreading little by little in some European countries, including Switzerland and Germany, it is almost non-existent in the U.K., France, and Italy. The same is true in the U.S. Accordingly, we need to develop a strategy with flexible ideas from different perspectives from refilling, including developing pouches with a spout that can be used as product body containers or targeting sauce and other food-related products. For the ASEAN region, I hope that demand for pouches with a spout will increase since its market is close to the Japanese market.
Possibilities expanding according to social trends, including an increase in e-commerce sales and long-term care needs
What we focus on as a new market opportunity is e-commerce, which has further gained momentum under the COVID-19 pandemic. We have developed a new type of product with a flat paper box on the outside and a pouch on the inside so that it can be left in a mail box when a customer is not at home. As I mentioned earlier, the size of pouches is increasing. For instance, if you purchase an item packaged with a large pouch in a supermarket, it may be hard for you to take it home with other purchased items. However, if you use e-commerce, in which purchased products are delivered to your home, you do not have to worry about their weight. Accordingly, more customers are interested in larger size products from 1.5 L to 3 L, 5L or more.
With the acceleration in the aging of society in Western countries as well as in Japan, long-term care will be a market opportunity. If the number of people being cared for keeps increasing and the number of caregivers becomes even more insufficient, what is necessary is packages that are easy to use for both groups of people. I believe that there is a need for pouches there. We have already produced pouches for oral rehydration solution that is thickened to prevent regurgitation. However, I would like to further work on the development of a new filling method and package that will make the contents easier to ingest for elderly people, who often have difficulty eating and drinking, and enable them to really enjoy the taste.
Development capabilities have been and will continue to be our greatest strength.
The strengths of the spouted pouch business are mainly the following four points. The first is high quality. Since pouches are sensitive packages that directly come into contact with their contents, it is crucial to ensure quality for safety and security. The second is bag manufacturing technology, which can achieve excellent functions such as ease of use. The third is the development of a production system that enables better operation for mass production. Our advantage is that we have machines in-house. The last is our relationships of trust with our business partners. Since FSG is not a material manufacturer, we promote manufacturing in cooperation with many business partners in Japan and overseas. We enhance value through heated discussions with them on creation. We create innovation while forming an alliance with them. I believe that our role is to demonstrate product leadership.
Looking back on the history of the spouted pouch business, it started approximately 20 years ago and is the youngest business in FSG. However, its sales are the second largest after that of the shrink sleeve label business. I think that the reason why it was able to grow so much in such a short period of time lies in our development capabilities, which is one of our strengths. When we entered the beverages market with pouches with a spout, we were a latecomer to the market. However, we created a faster and more efficient production system through machine innovation, and as a result, acquired the current position. Next, we entered the home and personal care products market. In an era when there was no idea of multiple refilling although pouches had already been marketed, we produced pouches with a spout for home and personal care products for the first time in Japan, using a bag manufacturing and filling system.
What is "Our Value to People and the Planet" that can be delivered through pouches
For "Value to the Planet," pouches can contribute to a reduction in the use of plastic. In addition, we are making various efforts to protect the environment, including using biomaterials and recycled resources to produce pouches and reusing waste from pouches as construction materials. Since pouches are not made of a single material but of film made by laminating three to four types of materials, they are difficult to recycle. Accordingly, we are working on the development of mono-material pouches so that collected pouches can be recycled. We are also working to produce more compact packages than before to contribute to improving transportation efficiency.
For "Value to People," we work on the development of easy-to-open caps for those with weak hands or who have a hand disability. Moreover, Fuji Pouches, which not only are easy to refill, but also can be used as a product body container with no need for refilling, are friendly to both the environment and people. Although they are currently used only for home and personal care products, I would like to expand their application to more diverse fields, including food and beverages.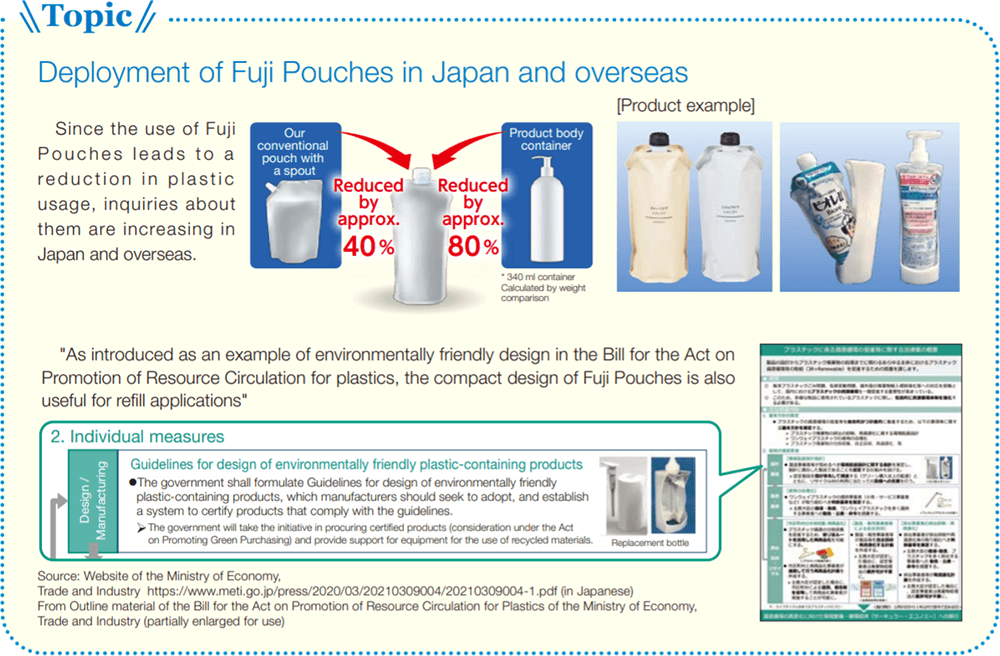 Aiming to grow into a second core business with "agility" as the keyword
In the new Medium-Term Management Plan, "Expanding the primary packaging portfolio-Growing into a second core business" is listed as one of the important strategies, and future trends in the spouted pouch business are being closely watched across the company.
In my view, the keyword for further growth is "agility." Witnessing how the world changed at once due to the COVID-19 pandemic, I realized that if there was no agility in all aspects of sales, development, and production, we would be simply left behind. I believe that focusing on agility leads to the Guideline for Action of FSG, "Changing along with changes." I also believe that investment in human resources is important besides the construction of a new production base. In terms of development, in particular, I would like to actively hire human resources with abundant knowledge and experience in addition to providing in-house training.