Self-adhesive Labels / Pressure Sensitive Labels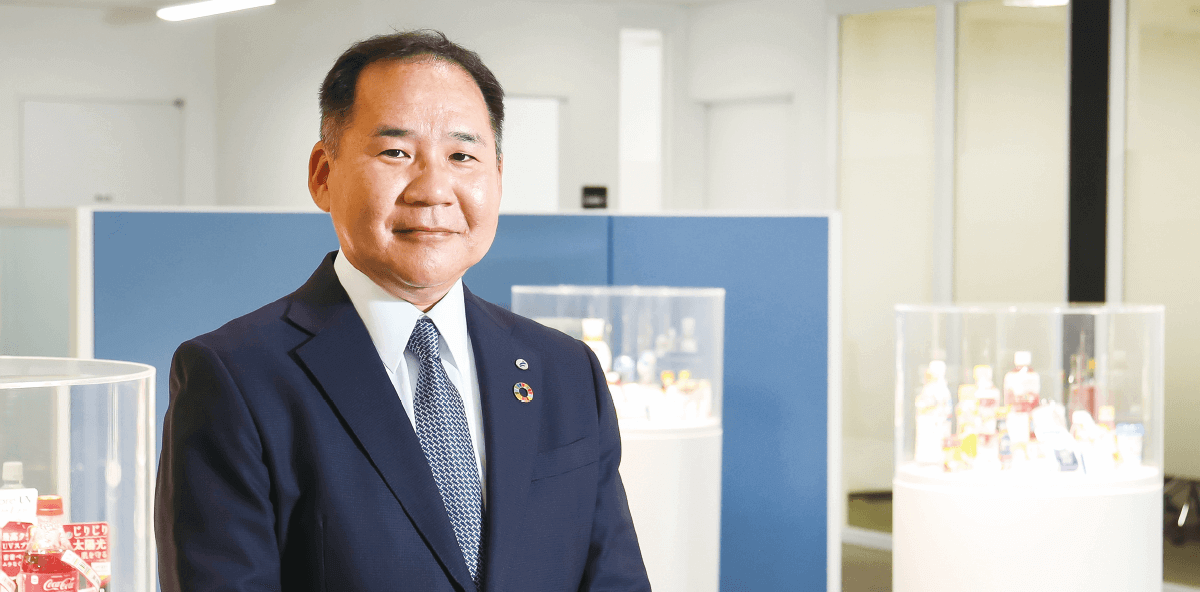 Labels are indispensable for consumers to use products with confidence. The role of labels has expanded, from just displaying information as before, to performing a function (decoration, opening, closing) and, in recent years, serving as a communication tool. Meanwhile, the role required of labels is changing day by day to respond to environmental issues, the "new normal," e-commerce, and personalization. I hope that labels will play a role in providing ease of use (safety and security), helping to protect the environment, and contributing to society, and continue to provide value as the foundation of a two-way relationship of trust between people and the environment. Believing that product development is the most important factor in achieving this, we will continue to create various technologies and products from the aspects of both market-in and product-out.
Creating and providing opportunities myself, which is one of the things that I have noticed under the COVID-19 pandemic
In FY2020, we were able to continue with production and supply even under the COVID-19 pandemic. Before looking back on FY2020, I would like to thank everyone involved in the self-adhesive / pressure sensitive label business for this.
In the past year, I have noticed many things and had a rich experience. What has changed in business from before is that the perspectives and values of customers and consumers regarding our products have gradually changed. I feel that they no longer see labels just as labels. I believe that there are future business opportunities there.
For me personally, my awareness and behavior patterns changed significantly. Until then, I had repeated the same behavior patterns, including going to work every day and going on an overseas business trip every month. However, as I had more time working at home and was therefore unable to directly communicate face to face with overseas members, I came to feel that it was important to shape new behavior patterns and create and provide opportunities myself.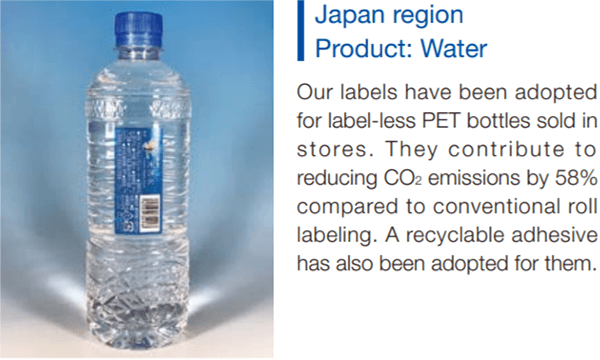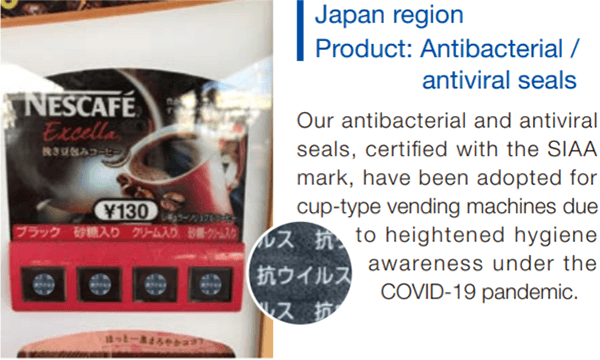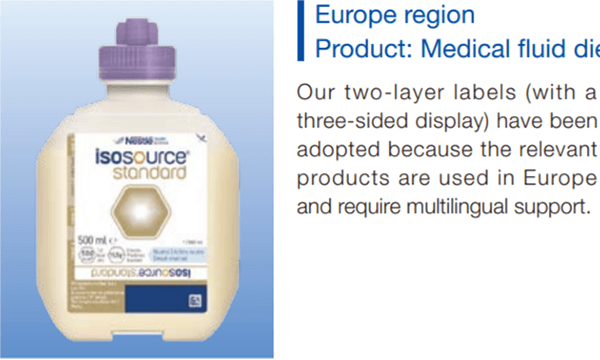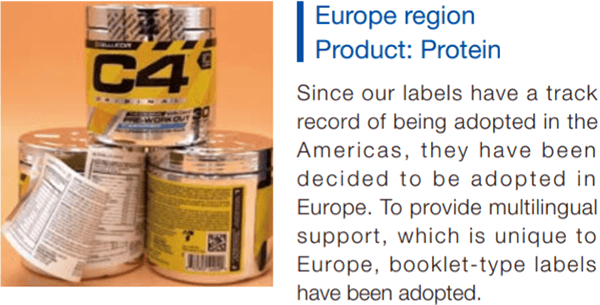 Developing more effective business strategies with a view to pursuing mobile manufacturing
I believe that the key phrases to seize market opportunities in the self-adhesive / pressure sensitive label business are "environmental issues," "personalization," "post-COVID-19 world," and "work style reform." Self-adhesive / pressure sensitive labels have a longer history compared to shrink sleeve labels and pouches. The technologies involved are used in a wide range of applications around the world, including stickers and sticky notes. Meanwhile, it is also a fact that it is difficult for major changes to occur in the field of self-adhesive / pressure sensitive labels because they are commonly used and firmly established. Under these circumstances, making changes with these four key phrases as a starting point becomes a great opportunity for us to move on to the next stage.
I would like to place special focus on "environmental issues." Self-adhesive / pressure sensitive labels are made of three different materials: a surface base material, an adhesive, and a release liner. Environmental impacts can be reduced by eliminating the release liner and using only a single material, for instance.
For "personalization," we aim to strengthen our response to the expansion of e-commerce. The production process of self-adhesive / pressure sensitive labels is flexible and, to describe in an extreme manner, they can be shipped in 24 to 48 hours from the start of production. Accordingly, they are very suitable for e-commerce, which requires a wide variety of products in small quantities and quick delivery. I would like to further investigate these characteristics and consider the implementation of mobile manufacturing in the future. Mobile manufacturing means that our manufacturing is conducted on the customer's premises, which enables speedier delivery of our products to the customer. It may be easier to understand if you imagine a food truck. Such on-site production has increased overseas over the last five to ten years.
Currently, SCM (Supply Chain Management), in which a value chain is created by the supply side, is the mainstream. However, it is said that DCM (Demand Chain Management), in which a value chain is created by the demand side, will become the mainstream in the future. I would like to move more flexibly while keeping DCM in mind as the keyword for next generation growth.
Self-adhesive / pressure sensitive labels are marketed in a huge market worth approximately three trillion yen and have many competitors. In such a situation, it depends on the country or region as to what business strategy we should develop. I believe that maintaining relationships with our customers is the key in Japan, where we boast overwhelming sales capability, and that manufacturing capability and the location of production bases are the key in the U.S. and Europe, where our competitors are ahead of us.
For the ASEAN region, a major theme is how to create a market mainly in Thailand, Indonesia, and Vietnam.
Taking advantage of the quality and speed of the verification process
Our greatest strength lies in our product development capability, especially the verification process. This is taken up in one of the nine materiality issues of FSG: "Speedy launch of newly developed products." For instance, it is easy to make the film thinner. The point is not that we can make it thinner, but that when it is made so thin, what impact this will have on the production process. Verification on the actual machine is usually done at the very end. However, since we build machines in-house, we can conduct verification promptly and see exactly what the technical points are.
The quality and speed of the process of putting our ideas into shape when we create new products is the result of our knowledge, effort, and relationships with business partners that we have accumulated over many years. I believe that we are second to none in this regard. It is also our great strength that all of our business partners are top global manufacturers and that we have the world's highest level of Pagomat labelling machines.
The self-adhesive / pressure sensitive label business is basically a "local production for local consumption" type of business, and we do business where there are customers and markets. We clearly divide up the production process, including separating factories dedicated to manufacturing pharmaceuticals from factories dedicated to manufacturing beverages, to improve QCD (Quality, Cost, Delivery) and differentiate ourselves from our competitors. Moreover, I would like to sustainably support our customers' manufacturing by providing machines and labels in the form of system sales although they have thus far been handled separately.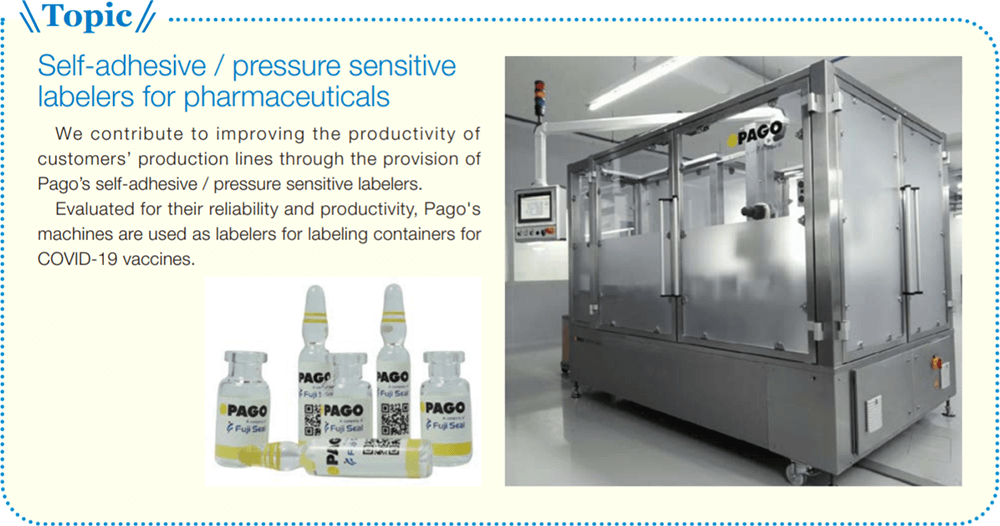 Our mission is to deliver the best products to consumers and customers to meet their needs.
Under our new vision "Our Value to People and the Planet," FSG has set the goal of "shifting 100% of turnover to 'Regenerative Packaging' by 2025." We will strive hard to achieve this goal. Among the products of FSG, self-adhesive / pressure sensitive labels are the only products made using paper. Accordingly, as a short-term goal, we will promote the use of paper base materials, such as water-resistant paper and translucent paper. We will also be more active than ever in using recycled materials and biomass-based materials. As a medium-term goal, we plan to realize the label-to-bottle approach aimed at recycling PET bottles with attached self-adhesive / pressure sensitive labels into PET bottles, as is the case with RecShrinkTM labels. As a long-term goal, we plan to realize liner-less labels, which do not have a release liner. Since decades ago, there have been customer needs to eliminate release liners, which eventually become waste.
However, no company has been able to realize liner-less labels, and this has been a long-standing issue for the self-adhesive / pressure sensitive label industry. However, realizing liner-less labels cannot be done unless you have machines in-house. Our willingness to address this issue proves that FSG has comprehensive strength.
Recently, there has been increasing demand for small-area self-adhesive / pressure sensitive labels, which can be attached to label-less PET bottles. Although label-less PET bottles originally began to be marketed through e-commerce, where products are often purchased by the box, they have been sold in stores in a limited area this year. Doubting if they have market appeal, I was worried whether consumers would show interest in them. However, it seems that sales are very strong because they are environmentally friendly. It has been decided that they will be rolled out nationwide next year.
Our mission is to provide the best packages to consumers and customers to meet their needs, regardless of whether we provide shrink sleeve labels or self-adhesive / pressure sensitive labels. I believe that this will lead to realization of our vision "Our Value to People and the Planet."
Efforts to develop human resources and products toward the creation of new value
To ensure sustainable growth during the three years of the new Medium-Term Management Plan, it is indispensable to develop human resources and products. I would like to develop our human resources and further improve our development and technical capabilities to create new value.
A challenge I would like to take up in the future is the development of a new labeler. The adjustment of self-adhesive / pressure sensitive labels is very delicate and currently relies heavily on operator skill. I would like to create a next-generation labeler that anyone can use, like a self-driving car, that uses AI technology. We are currently formulating a plan with a view to industry-academia collaboration.