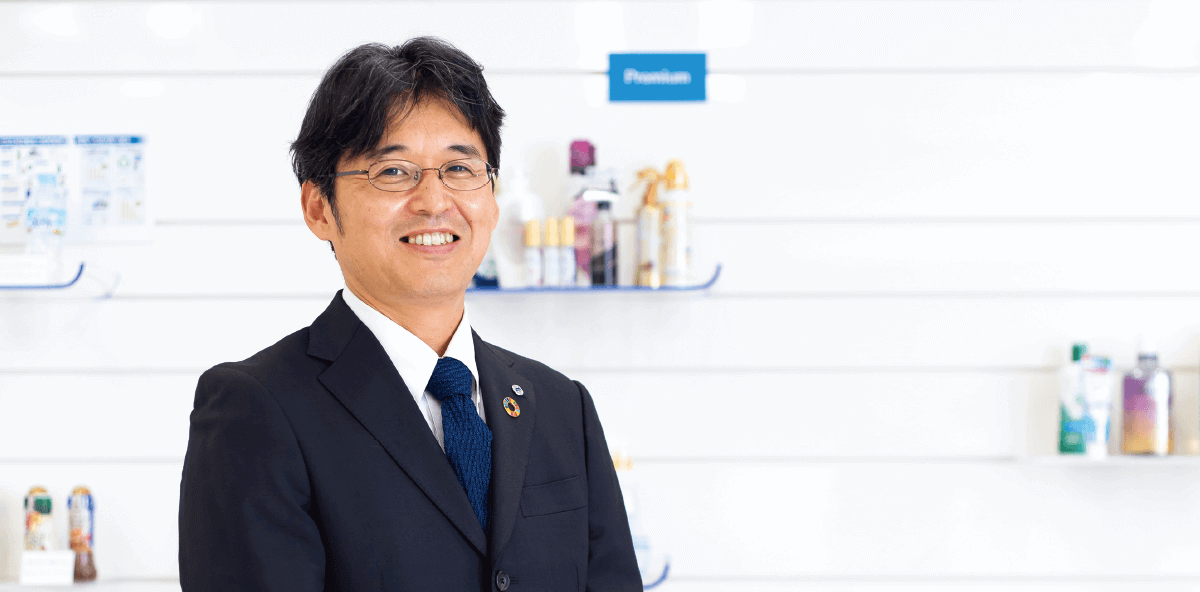 In recent years, due to the issue of plastic waste and the growing need for environmental friendliness, we have been required to change plastic packages in response. In the shrink sleeve label business, we will establish environmentally friendly labels in cooperation with our customers and business partners and focus on expanding them globally. We will aim to further expand our business by additionally applying environmentally friendly technology to shrink sleeve labels, which are very easy-to-use packaging items.
The power of our employees was reaffirmed in 2020, which we entered with a sense of crisis
In 2019, the issue of marine plastic waste was highlighted all over the world, and while being afraid that the shrink sleeve label business would disappear, we entered 2020. Just when we were preparing to further strengthen environmental measures, the COVID-19 pandemic spread and drastically changed social trends. Although the situation was completely different in each region, in the United States, where our main customers are manufacturers of daily necessities, including food and home and personal care products, our sales increased as a result of increased demand from people staying at home under strict regulations such as lockdown restrictions.
Fortunately, we did not have to close our factories even at the height of the COVID-19 pandemic because our business is essential to daily life. However, the situation was still difficult, and it was thanks to our employees, who worked hard every day at the factories, that we were able to continue our manufacturing activities.
We were also supported by our business partners, who continued to supply materials, such as film and ink, without running out, while facing the same difficult situation, and by our customers, who continued to place orders even if it took a long time for delivery.
It was the year when I reaffirmed the underlying strength of FSG, which was previously a little difficult to notice, and the trust relationships with our customers and business partners that we had built up over the years.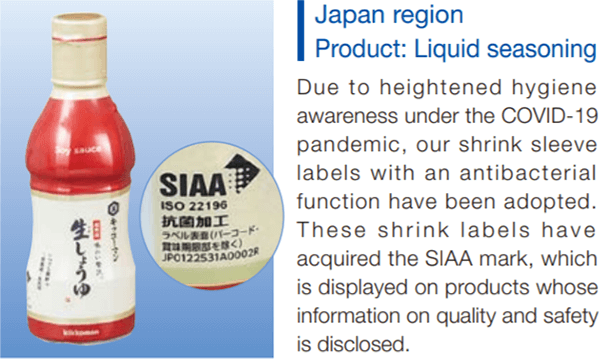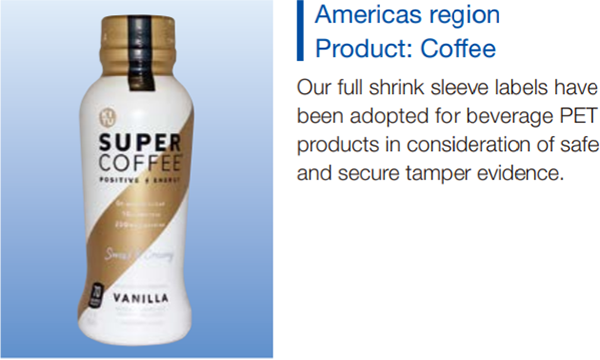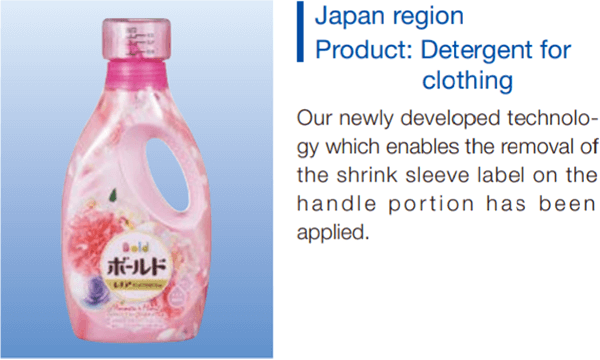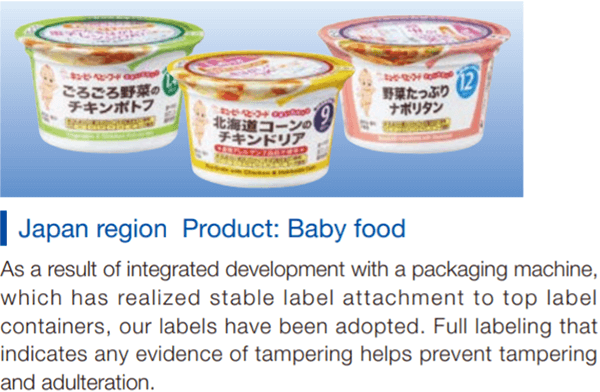 Taking the first move toward environmental measures in Japan and the U.S.
While continuing to provide products under the COVID-19 pandemic, we have accelerated the development of environmentally friendly products in the past year. In Japan, the label-to-label project, in which we have worked with our business partners toward the resource recycling of shrink sleeve labels, has begun to take shape. In the U.S., RecShrinkTM labels, which were developed under the further advanced label-to-bottle project, were launched on the market. We have taken the initiative in both business and the promotion of a circular society, looking ahead to the time when the COVID-19 pandemic will end and social attention will again be focused on environmental issues.
Although RecShrinkTM labels, developed in the U.S., enable reasonable recycling in which PET bottles with labels are collected to be recycled into PET bottles, they do not comply with Japanese recycling rules. Nevertheless, based on the information that RecShrinkTM labels are to be adopted by several global top manufacturers who have strict standards for environmental protection and quality, our Japanese customers have offered various possibilities as to how they can use RecshrinkTM labels. Meanwhile, our overseas customers have shown interest in the label-to-label project, which is an initiative unique to Japan. Thus, different approaches to the environment have led to new business opportunities.
The materials used for shrink sleeve labels also vary by country or region. Even if one technology is established, it cannot be used universally but needs to be localized. However, this is what FSG is good at since we were among the first to enter the global market.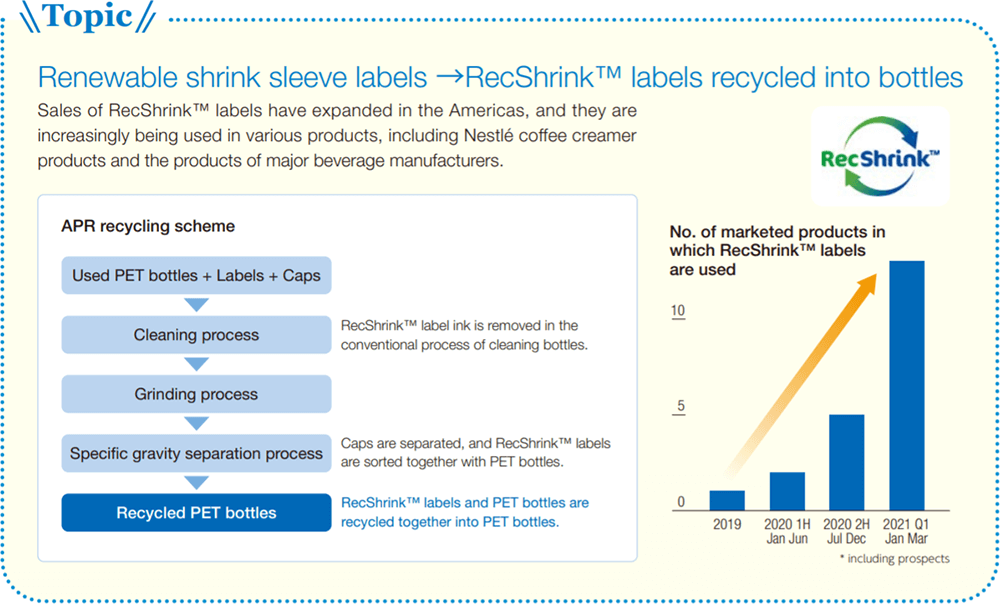 Our main strength is that we have created everything as a pioneer of shrink sleeve labels
The greatest strength of our shrink sleeve label business is that we are a pioneer in the shrink sleeve label industry. For 50 years we have continued to create and improve everything related to shrink sleeve labels from scratch, where there were no materials, printing technologies, machines, or even demand. Accordingly, even if a film manufacturer suddenly brings new materials to us, we can consider how to provide them to our customers and commercialize them. Even in the case of a self-developed product, since it has already reached a certain level when we propose it to our customers, we can achieve fast evaluation and commercialization. Our strengths lie not only in such quick responses but also in the provision of consistent support to customers from creation and production to marketing (from product development to marketing to consumers). They are strengths not found in other companies. RecShrinkTM labels are a good example. Considering only the materials and technology, it is possible for our competitors to produce similar products. However, no companies have been able to do so because only FSG can support the manufacturing processes of customers.
To continue to support the manufacturing of our customers, we must not forget the existence of our business partners. I am among the last generation to receive direct guidance from the founder, Masaaki Fujio. I was taught by him that our company could do business thanks to our business partners and that we could do nothing without them. When I was just getting started in business, I called my business partner a "trader," who turned red in the face and got angry at me, saying, "Who do you think you are?" (LOL) Even if I think back to various other events, my thoughts always return to that particular event, which is the starting point of my work.
A better work environment that is friendly to both employees and the planet
The new vision of FSG is "Our Value to People and the Planet." For "people" in the vision, there are various interpretations, such as customers, business partners, and consumers. However, what comes first to my mind is employees, whose greatness and real strength I have recognized again under the COVID-19 pandemic. First of all, I would like to deliver them value that is friendly to them. This value refers to a good work environment.
Nowadays, machines are becoming increasingly dependent on software due to technological advances. With no manual operation required, machines automatically make all the fine adjustments which were previously done manually. These new machines are also very manageable for operators, who no longer need to be overwhelmed by work while being soaked in sweat. They will therefore not get injured as a matter of course. The reduction of various burdens provides us time to think about how to improve the production process and quality and how to produce products that are friendly to both the environment and consumers. I believe that thinking by thousands of employees, rather than thinking by one person, will inevitably produce answers.
Along with the introduction of new machines, we will work to reduce the amount of solvent used, which is one of the causes of the deterioration of the work environment. Specifically, by switching from oil-based ink gravure printing to water-based ink flexography, we will reduce the amount of solvent used by about 50%, and aim to achieve solvent-free printing in the future. Since we have developed our own gravure printing technology while making the most of the know-how that FSG has cultivated, I feel conflicted about switching from gravure printing to flexography. However, I will actively promote the creation of a work environment that is friendly to both employees and the planet.
Making a meaningful investment to achieve our 15% profit margin target
Since the shrink sleeve label business is the core business of FSG, we have abundant human resources, solid technology, and substantial manufacturing capabilities. Accordingly, in the new Medium-Term Management Plan, we have decided to focus on profits and set the target of profit margin at 15%. However, even if we realize all the strategies that we have already planned, we will only be able to achieve about 13%. To add 2% to this value, there are two points to make.
The first point is our approaches to the environment, including the label-to-label approach and the label-to-bottle approach. In particular, if the label-to-label approach is realized in the future, it is expected that shrink sleeve labels will take the place of other labels that are not environmentally friendly, resulting in further increasing their sales in the Japanese market.
The other point is the replacement of aging machines. Although we have added more machines to increase production capacity, we have not renewed many of our old machines due to the lack of a corporate culture of scrap and build. Of course, there are benefits if we continue to use old machines for a long time while maintaining them. However, as I mentioned earlier, if we use a new machine, this will increase productivity and safety, ensuring friendliness to both people and the environment. Although extra investment is necessary, we can expect a return that exceeds the investment value. And above all, if a new machine is installed on-site, this increases employee engagement and motivation. Although the target of 15% is very difficult to achieve, I would definitely like to take on the challenge of achieving it.