Initiatives to build a circular economy
Initiatives to build a circular economy
To promote the recycling of limited valuable resources and build a recycling-oriented society, FSG has been working on the implementation of horizontal recycling. Used labels and packages are regenerated as resources by developing recyclable products and collecting and recycling used products.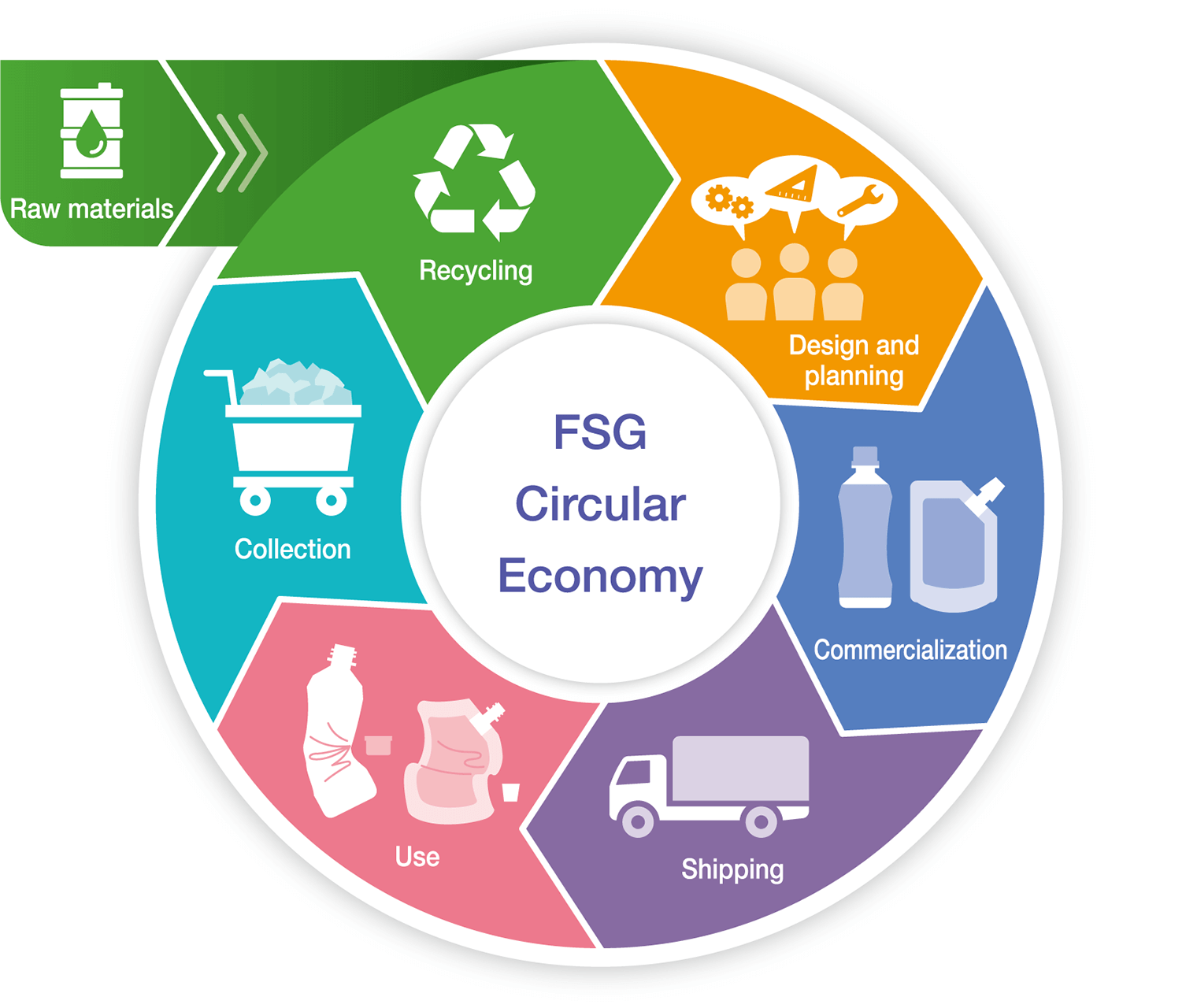 We are working on the following three major initiatives.
Label-to-label project

In Japan, we have launched a field-test project to technologically realize the horizontal label-to-label recycling of shrink sleeve labels and make this feasible in society in collaboration with business partners, recyclers, and customers.
The label-to-label technology will enable horizontal recycling of used labels, after printed designs are removed from them, into new labels, thereby contributing to resource circulation.
We are also promoting an "ink-to-ink" initiative to remove ink from labels and recycle it into ink for packaging materials. In cooperation with Dainichiseika Color & Chemicals Mfg. Co., Ltd., we have succeeded in developing a technology for this purpose and recycling used ink into ink for ordinary use on labels.
Recycling labels, which provide consumers with useful information, into labels again will contribute to not only effective use of resources but also GHG emissions reduction.
We launched this project to look for label-recycling solutions that are particularly effective in Japan, where the process of automatically separating labels from PET bottles is available. We will continue our efforts to establish a system for recycling shrink sleeve labels in close collaboration with stakeholders.
Label-to-bottle project

The focus of label recycling has conventionally been placed on how to completely remove labels from containers and how to enhance the efficiency of PET bottle recycling.
However, a new concept of resource circulation based on horizontal recycling of bottles with labels, which are also useful resources, is being accepted mainly in the Americas.
In 2019, the Association of Plastic Recyclers recognized the RecShrinkTM label, which FSG had developed, as recyclable with PET bottles into PET bottles.
Packages to something valuable

Reducing waste from the processes of manufacturing pressure sensitive labels and pouches

We strive to not only reduce waste from manufacturing processes but also use waste effectively.
We work with our business partners to separate in-house waste appropriately and use it effectively through recycling. Furthermore, we are currently examining what product designs will make recycling easier, exploring a more economical form of recycling.
For example, we are implementing a project to recycle waste from the processes of manufacturing pressure sensitive labels and pouches in cooperation with Joto Techno Co., Ltd. and G-Place Corporation, both of which are engaged in manufacturing building materials.
This project, through partnership between different industries, aims to pave the way for widespread use in society of the technology for manufacturing usable recycled materials and of those recycled materials.