Initiatives Related to Climate Change
Governance of Climate-Related Issues
Board of Directors at FSI deliberates on sustainability issues, including climate-related issues, at least four times a year, approving targets and reviewing progress. For example, the current mid-term management plan (announced in May 2018) sets targets such as "waste reduction" and "sales contribution to customers who are involved in environmentally friendly product initiatives" to reduce environmental impact.The executive officers in charge of the regions (Japan, US, Europe, and ASEAN) are responsible for the overall business, including efforts to address environmental issues, based on an assessment of the risks and opportunities of climate change. The executive officers of the business units are responsible for promoting the reduction of the environmental impact of manufacturing processes based on the same perspective. The executive officer in charge of development organizes development meetings four times a year from the perspective of both assessing and managing climate-related risks and opportunities, and is responsible for proactively promoting the development of products that contribute to reducing environmental impact, as well as monitoring these products.In addition to proposing specific policies for action to the Board of Directors, the newly established Group Sustainability Committee notifies and directs each region and business of matters decided by the Board of Directors, and evaluates, supports, and promotes activities in each region.
Strategy and Risk Management on Climate-related Issues
Management Process for Climate-related Risks and Opportunities
Fuji Seal Group uses the following management process to identify business risks and opportunities.
Our proprietary "risk map" method and scenario analysis are used regularly to assess climate-related risks and opportunities.
Description of Risk Management Process:

(1)

Evaluate the degree of impact and likelihood of occurrence of each possible risk, create a risk map, and visualize their significance.

(2)

Estimate the impact and occurrence of each risk item on management over the short, medium, and long term. Next, identify the most important risk items and prioritize them as part of the risk assessment.

(3)

The completed risk map is reviewed and approved by the Board of Directors at the beginning of each fiscal year, and each division and region develops and implements measures to manage its own risks based on the approved risk map.

Description of Opportunity Management Process:

(1)

At the end of each fiscal year, a global development meeting attended by R&D members from each region reviews the impact of each opportunity and the feasibility of actions, and identifies key opportunity items based on customer/market needs and technical challenges.

(2)

The identified key opportunities are reviewed by the Board of Directors and approved as global development projects.

(3)

The remaining development proposals are processed as regional development projects by the relevant regional development departments.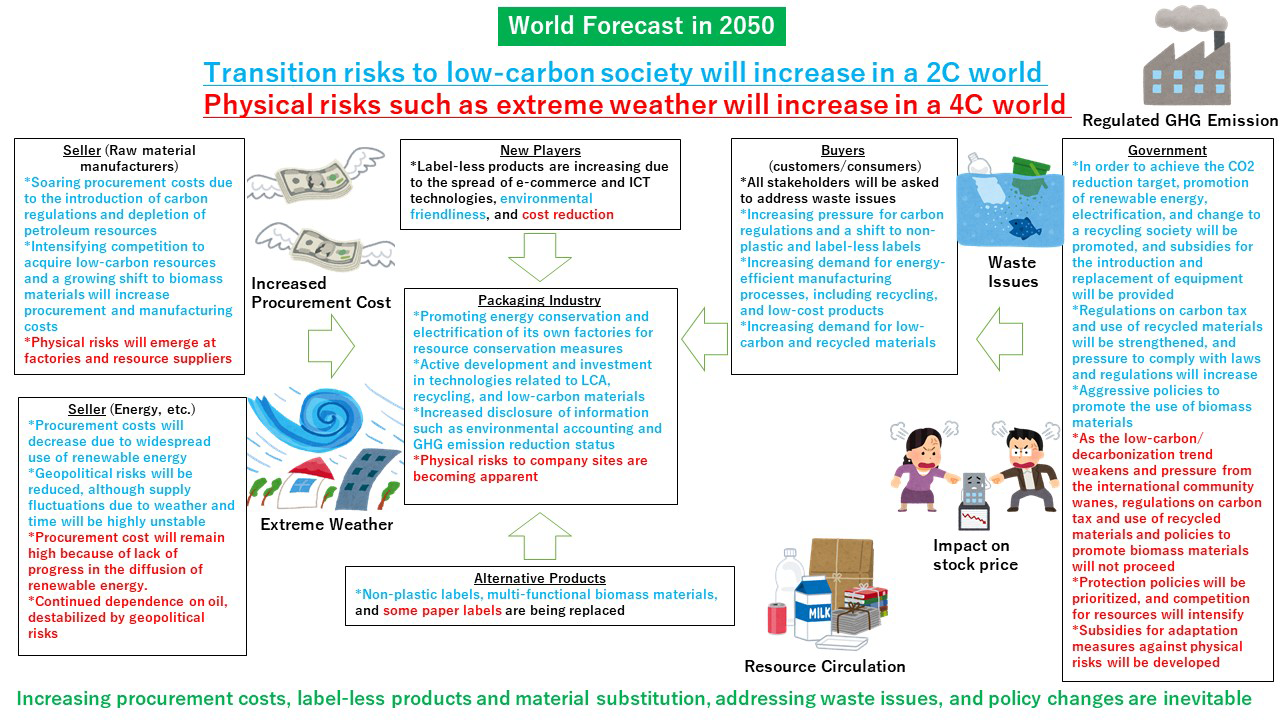 In accordance with the Ministry of the Environment's guidelines, a 2-degree Celsius scenario and a 4-degree Celsius scenario are assumed, and related departments, including corporate planning and finance, jointly analyzed the degree of impact on our business.
As a result, we expect that the importance of reducing greenhouse gas (GHG) emissions will increase, and that the plastic waste problem and the shift to label-less packaging, which are deeply related to the packaging industry, will become more apparent. As a countermeasure, we believe it is necessary to take more in-depth measures to reduce the environmental burden, such as reducing the use of organic solvents in printing and using water-based printing, in addition to reducing GHG emissions through the accumulation of energy-saving measures.
Examples of Identified Risks and Opportunities
Long-term Risk: Increased expenditure due to new carbon taxes

Fuji Seal Group recognizes that its business could be affected by amendments or repeals of laws related to new regulations or changes in the enforcement policies of regulatory authorities regarding those laws.
If a new carbon tax were to be introduced and $40-100/t-CO2eq were to be levied, this could result in an increase in expenditures of 0.7-1.6 billion yen annually, assuming current emissions levels are maintained, which could have an impact on our business.
Medium-term Risk: Reputation decline due to insufficient disclosure of non-financial information

The risk to reputation and reputational damage due to increasing environmental issues, including climate change issues, is one of the identified risks. With increasing interest in ESG investments by institutional investors and shareholders around the world, delays in addressing climate change could lead to a decline in corporate value.
Short-term Risk: Damage or Inability to Supply Due to Extreme Weather

In recent years, climate change has led to an increase in abnormal weather events such as typhoons and torrential rains.
In particular, Japan, where torrential rains often cause damage, accounts for about 60% of the Group's total sales. The Group operates six factories in Nabari, Tsukuba, Yuki, Yamagata, Ube, and Hyogo, and has a variety of customers and partner companies. In these areas, there is a risk of damage to buildings, products, and employees due to abnormal weather conditions such as typhoons and heavy rains caused by climate change.
Opportunity 1: Improving resource efficiency by developing and providing transportation-efficient products that contribute to low GHG emissions

Fuji Seal Group is working on various aspects to reduce waste and CO2 emissions through more efficient transportation in order to keep costs down and reduce environmental impact. In particular, Fuji Seal Group and its customers have been working on the development of more efficient transportation systems from the perspective of production and delivery. We have identified these developments as one of the opportunities related to climate change.
Opportunity 2: Meeting the demand for low-carbon products by developing and providing system solutions for packaging materials and machinery

Fuji Seal Group is developing earth-friendly packaging solutions to reduce environmental impact, such as thin-walled labels, biomass materials, labels and packages made from recycled resins, and packaging machinery optimized for these products with low CO2 emissions. We are also working to improve the production efficiency and energy efficiency of our packaging machinery, and see it as an opportunity to meet the demand for low-carbon products by reducing CO2 emissions in both machinery and packaging.
Opportunity 3: Development of new markets through recycling-related initiatives to realize a low-carbon society

Fuji Seal Group is striving to improve quality and productivity, develop new products and cultivate new markets by exchanging information on technologies and markets. In recent years, many of our customers have begun to consider the sustainability of their products as an issue related to climate change. Under such circumstances, Fuji Seal Group considers the development of new markets with recyclable design products and related services as one of the opportunities. In September 2019, American Fuji Seal Inc, a subsidiary of Fuji Seal Group in the U.S., successfully developed a shrink label (RecShrink TM) that can be recycled into PET bottles as an initiative for product recycling.
Company-wide Targets on Climate Change
Fuji Seal Group considers climate change as one of the most important environmental issues and has set medium-term targets for the entire company. We aim to achieve virtually zero GHG emissions in 2050 while reviewing our targets in stages.
GHG emissions per unit of sales (Scope 1+2): 6% reduction from 2017 (target year: 2023)
Trends in GHG Emissions in Fiscal 2019
GHG emissions in Scope 1 and 2 per unit of sales for fiscal 2019 at the Fuji Seal Group's major production sites in Japan and overseas were 0.85 t-CO2/million yen, a 7% reduction compared to fiscal 2017.
In order to ensure consistency, transparency and accuracy of disclosed GHG emissions and energy consumption, Fuji Seal Group is undergoing third-party verification by SGS Japan, Inc. starting with the fiscal year 2019 report.
Third-party verification on GHG emissions

Criteria of Verification:

ISO14064-3: 2006

Scope of Verification:

Scope 1 and 2
(energy related CO2 emissions and energy consumption)

Boundary:

Fuji Seal Group 24 sites
(all 13 sites in Japan and 11 oversea sites except Fuji Seal Engineering and PAGO Italy)

Conclusions:

Nothing has been noted to believe that Fuji Seal Group's assertion was not calculated and reported in conformance with the criteria.
In order to reduce the use of gas and other fuels (Scope 1), we have switched from conventional gas-fired boilers to waste heat boilers that utilize VOCs generated in the printing process, upgraded printing machines more energy-efficiently, and taken measures to prevent energy loss by insulating various boilers. In addition, in order to reduce the use of electricity (Scope 2) and to achieve more efficient temperature control, which is essential for shrink labels, we are changing air conditioning equipment to energy-saving types at our plants in Japan and the Americas, and enhancing the insulation efficiency of buildings and equipment piping at our plants in Japan and Europe. Furthermore, we are working on LED lighting throughout the company.