Initiatives Related to Climate Change
Governance of Climate-Related Issues
Board of Directors at FSI deliberates on sustainability issues, including climate-related issues, at least four times a year, approving targets and reviewing progress. For instance, considering the risks and opportunities associated with climate change, marine plastic issues, and resource depletion, the Board of Directors has deliberated and formulated the latest medium-term management plan and determined new environmental KPIs, which include increasing the sales ratio of environmentally friendly products, reducing CO2 emissions and waste. The Board of Directors checks progress of the initiatives, provides guidance to officers in each region, and supervises each initiative with respect to these goals and risk management at each meeting of the Board of Directors.
The executive officers in charge of the regions (Japan, US, Europe, and ASEAN) are responsible for the overall business, including efforts to address environmental issues, based on an assessment of the risks and opportunities of climate change. The executive officers of the business units are responsible for promoting the reduction of the environmental impact of manufacturing processes based on the same perspective. The executive officer in charge of development organizes development meetings four times a year from the perspective of both assessing and managing climate-related risks and opportunities, and is responsible for proactively promoting the development of products that contribute to reducing environmental impact, as well as monitoring these products.
Additionally, the performance-linked compensation has been introduced to its executive officers. The percentage of total remuneration varies from 0% to 30%, and the calculation items include consolidated net sales and operating income ratio for a single year, financial indicators important for management strategy, and non-financial indicators such as environmental indicators and human resource development.
In addition to proposing specific policies for action to the Board of Directors, the newly established Group Sustainability Committee notifies and directs each region and business of matters decided by the Board of Directors, and evaluates, supports, and promotes activities in each region.
Strategy and Risk Management on Climate-related Issues
Management Process for Climate-related Risks and Opportunities
Fuji Seal Group uses the following management process to identify business risks and opportunities.
Our proprietary "risk map" method and scenario analysis are used regularly to assess climate-related risks and opportunities.
Description of Risk Management Process:

(1)

Evaluate the degree of impact and likelihood of occurrence of each possible risk, create a risk map, and visualize their significance.

(2)

Estimate the impact and occurrence of each risk item on management over the short, medium, and long term. Next, identify the most important risk items and prioritize them as part of the risk assessment.

(3)

The completed risk map is reviewed and approved by the Board of Directors at the beginning of each fiscal year, and each division and region develops and implements measures to manage its own risks based on the approved risk map.

Description of Opportunity Management Process:

(1)

At the end of each fiscal year, a global development meeting attended by R&D members from each region reviews the impact of each opportunity and the feasibility of actions, and identifies key opportunity items based on customer/market needs and technical challenges.

(2)

The identified key opportunities are reviewed by the Board of Directors and approved as global development projects.

(3)

The remaining development proposals are processed as regional development projects by the relevant regional development departments.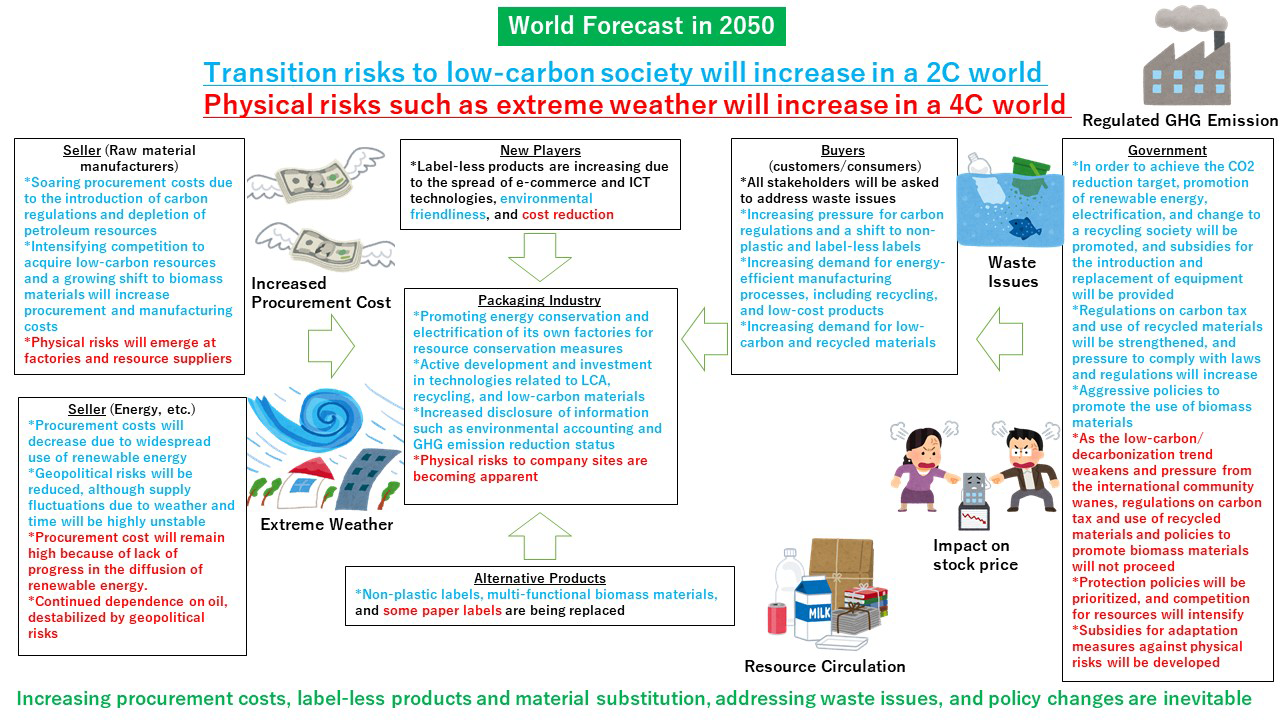 In accordance with the Ministry of the Environment's guidelines, a 2-degree Celsius scenario and a 4-degree Celsius scenario are assumed, and related departments, including corporate planning and finance, jointly analyzed the degree of impact on our business.The replacement of the 2-degree Celsius scenario with the 1.5-degree Celsius scenario is also assumed using the new parameters.
As a result, we expect that the importance of reducing greenhouse gas (GHG) emissions will increase, and that the plastic waste problem and the shift to label-less packaging, which are deeply related to the packaging industry, will become more apparent. As a countermeasure, we believe it is necessary to take more in-depth measures to reduce the environmental burden, such as reducing the use of organic solvents in printing and using water-based printing, in addition to reducing GHG emissions through the accumulation of energy-saving measures.
We also utilize an internal carbon pricing mechanism in order to encourage the capital investments that promote GHG emission reductions as well as the introduction of renewable energy.
Examples of Identified Risks and Opportunities
Long-term Risk: Increased expenditure due to new carbon taxes

Fuji Seal Group recognizes that its business could be affected by amendments or repeals of laws related to new regulations or changes in the enforcement policies of regulatory authorities regarding those laws.
If a new carbon tax is introduced, it may affect our business because additional expenditures are expected to be 700-1600 million yen per year under the 2-degree Celsius scenario and 2.8-5.1 billion yen per year under the 1.5-degree Celsius scenario, calculated based on 2021 emissions.
Medium-term Risk: Reputation decline due to insufficient disclosure of non-financial information

The risk to reputation and reputational damage due to increasing environmental issues, including climate change issues, is one of the identified risks. With increasing interest in ESG investments by institutional investors and shareholders around the world, delays in addressing climate change could lead to a decline in corporate value.
Short-term Risk: Damage or Inability to Supply Due to Extreme Weather

In recent years, climate change has led to an increase in abnormal weather events such as typhoons and torrential rains.
In particular, Japan, where torrential rains often cause damage, accounts for about 60% of the Group's total sales. The Group operates six factories in Nabari, Tsukuba, Yuki, Yamagata, Ube, and Hyogo, and has a variety of customers and partner companies. In these areas, there is a risk of damage to buildings, products, and employees due to abnormal weather conditions such as typhoons and heavy rains caused by climate change.
Opportunity 1: Improving resource efficiency by developing and providing transportation-efficient products that contribute to low GHG emissions

Fuji Seal Group is working on various aspects to reduce waste and CO2 emissions through more efficient transportation in order to keep costs down and reduce environmental impact. In particular, Fuji Seal Group and its customers have been working on the development of more efficient transportation systems from the perspective of production and delivery. We have identified these developments as one of the opportunities related to climate change.
Opportunity 2: Meeting the demand for low-carbon products by developing and providing system solutions for packaging materials and machinery

Fuji Seal Group is developing earth-friendly packaging solutions to reduce environmental impact, such as thin-walled labels, biomass materials, labels and packages made from recycled resins, and packaging machinery optimized for these products with low CO2 emissions. We are also working to improve the production efficiency and energy efficiency of our packaging machinery, and see it as an opportunity to meet the demand for low-carbon products by reducing CO2 emissions in both machinery and packaging.
Opportunity 3: Development of new markets through recycling-related initiatives to realize a low-carbon society

Fuji Seal Group is striving to improve quality and productivity, develop new products and cultivate new markets by exchanging information on technologies and markets. In recent years, many of our customers have begun to consider the sustainability of their products as an issue related to climate change. Under such circumstances, Fuji Seal Group considers the development of new markets with recyclable design products and related services as one of the opportunities. In September 2019, American Fuji Seal Inc, a subsidiary of Fuji Seal Group in the U.S., successfully developed a shrink label (RecShrinkTM) that can be recycled into PET bottles as an initiative for product recycling.
Company-wide Targets on Climate Change
Fuji Seal Group considers climate change as one of the most important environmental issues and has set medium-term targets for the entire company. We aim to achieve virtually zero GHG emissions in 2050 while reviewing our targets in stages.
GHG emissions per unit of sales (Scope 1+2): 6% reduction from 2017 (target year: 2023)
Scope 1 and 2 GHG emissions per unit sales at main production sites of Fuji Seal Group in FY2021 were 0.94 t-CO2 / million yen, an increase of 3.2% compared to the FY2017 results.
In FY2019, all regions were able to reduce absolute CO2 emissions by a total of 8,294 tons compared to FY2017, and as an intensity unit we were able to reduce CO2 emissions by 5.7% compared to FY2017. As a result of a change in calculation methods (e.g. scope boundary) from FY2020, the absolute GHG emissions in FY2021 increased due to the contribution of regions with higher emissions per unit sales, although each region individually reduced CO2 emissions by more than 10% per unit sales in FY2020-FY2021.
Meanwhile, we have set a new target of net zero emissions by 2050, and plan to raise the target step by step with time. We will continue to implement reduction activities to achieve the 2050 target.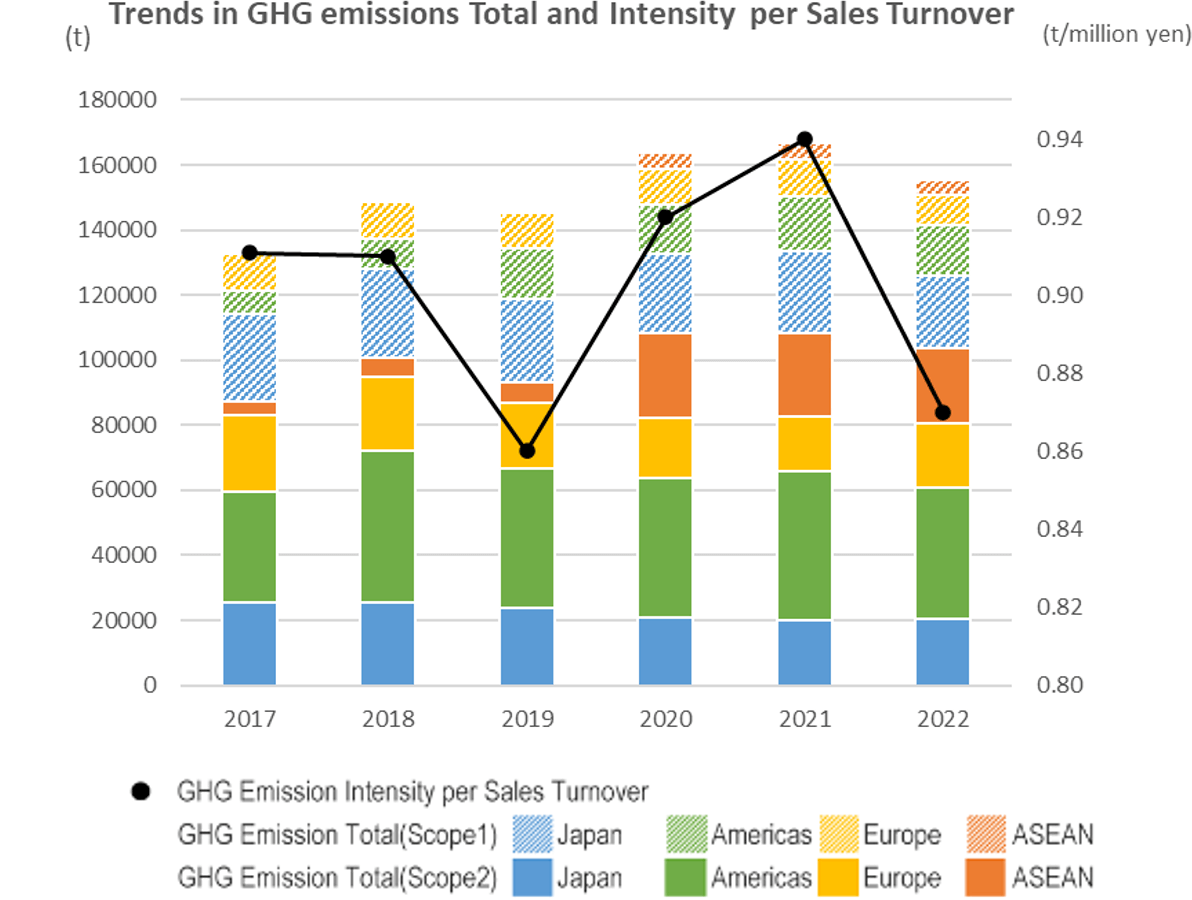 In order to ensure consistency, transparency and accuracy of disclosed GHG emissions and energy consumption, Fuji Seal Group is undergoing third-party verification by SGS Japan, Inc. starting with the fiscal year 2019 report.
Third-party verification on GHG emissions

Criteria of Verification:

ISO14064-3: 2006

Scope of Verification and boundary

Scope 1 and 2(energy related carbon dioxide emissions and energy consumption, excluding the vehicles which run outside of the sites)
29 sites
(16 domestic and 13 overseas sites)

Scope 3 (category 6: Business travel)
The organization and the consolidated companies

Conclusions:

Nothing has been noted to believe that Fuji Seal Group's assertion was not calculated and reported in conformance with the criteria.
The following is an introduction to specific actions to reduce GHG emissions in various regions in recent years.
Upgrade of equipment at the Thai factory

Two new magnetic-bearing chillers were installed at the Thailand plants. This has resulted in a significant reduction in electricity consumption, which in turn has reduced energy use.

Modification of the gas supply header

Modification of the VOC gas supply header of the VOC combustion equipment has improved combustion efficiency and reduced the amount of city gas used to raise the temperature, thereby reducing CO2 emissions. Until now, VOCs emitted from printing presses were incinerated by combustion equipment using a fixed supply route to each VOC combustion equipment. By combining the supply routes, it has become easier to control the concentration of VOCs, and combustion can be controlled more efficiently.

Installation of a new type printing dryer

Through ingenuity in the design of the printing equipment, it was possible to lower the air volume required for drying, and by improving the insulation performance of the drying box, electricity consumption was reduced.
In addition to these initiatives, the US factory is actively introducing renewable energy and has started purchasing RECs since 2022. And new solar panel installations are also being implemented in ASEAN. We will continue to explain our initiatives for further GHG emission reduction.